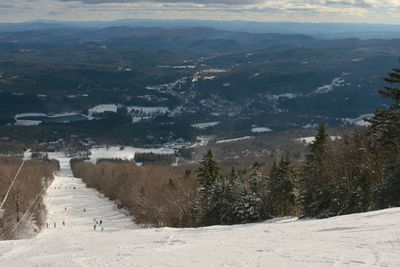 Jackson Gore opens Friday, December 6!
Greetings,
It is always great to see the first significant snow storm of the season arrive - especially this early in December! While we have had a couple of storms, which were lighter, this past week's storm allowed us to open up some trails with natural coverage. This weekend will bring with it the opening of Jackson Gore and that base area, which will bring our trail count total to more than 45 trails with as many as 9 lifts operating.
I wanted to take this opportunity to answer some questions that I have been asked in the past few weeks. Most likely these questions are being asked by others as well.
Are the local school programs continuing at Okemo this year?
Yes, we are continuing with the local school programs. There has been some misinformation going around regarding the schools which did have a program on Sundays. In an effort to provide a better experience for those schools because of skier volume, we offered those schools to reschedule to any other midweek day. They had a choice of what would work best for them. Unfortunately, those schools made the decision that they would rather not have their ski program on a midweek day and thus have decided to look at other options for their programs. While we had hoped that they would stay at Okemo, in the end it is great to hear that that the kids will still be skiing and riding.
Why has Okemo's Snow Report changed, and how come the information is not the same as before?
Our snow reports changed this year as we are using a more web-based approach and hopefully providing the same information. The Okemo team has worked hard to continue to provide the basic information that our guests want, including lift and trail open status, snowfall amount, temperature and weather, as well as snow surface. I do understand that we don't have the "Good morning Skiers and Riders" paragraph describing what went on last night for snowmaking. We are working to see how we can incorporate this, but as of now we won't be having a paragraph like that. We understand that this is a change and I am hopeful that you as our guests know that we are working to provide as much valuable information as possible. We may not have all the information you might want, but we will give the basics and hopefully a little more.
How does Okemo handle unsafe guest skiing and fraudulent pass use?
Okemo takes safe skiing and riding very seriously. We expect those who ski and ride on the mountain to follow the responsibility code when on the slopes. Okemo has policies in place for those who ski unsafely or ski closed trails. Infractions may result in a range of actions from education to suspension of their season pass. We also take fraudulent ticket and season pass situations seriously. Season passes are not transferable, and guests who are found sharing their pass with others can expect to have their privileges suspended. We expect safe skiing and riding as well as honest use of season passes during the season.
The start of this ski season well underway, and with the Jackson Gore base area opening, lifts and trails are opening up there as well. Snowmakers will be headed back on the main mountain to begin work on some of the trails in that area as well as some of the lodging trails. Many thanks to our snowmakers and groomers for making and laying out the snow as well as the entire Okemo team for getting the season off to a great start! I look forward to seeing you on the slopes!
As always, thanks for your support and feel free to let us know how we are doing.
Bruce Schmidt
Okemo VP & GM