Timber Ripper Mountain Coaster
About the Mountain Coaster
The Timber Ripper Coaster is Central Vermont's favorite four-season attraction, offering a scenic and exhilarating ride through alpine forest and along the contours of the Mountain at Okemo's Jackson Gore base. Rippers ride over 3,100ft of rollers, banking loops, and a twister section at speeds of up to 25mph! Sled-like cars carry two passengers in comfort but can be handled easily by one alone. The riders are in control of the speed, and this gives them a unique hands-on experience, encouraging repeat visits.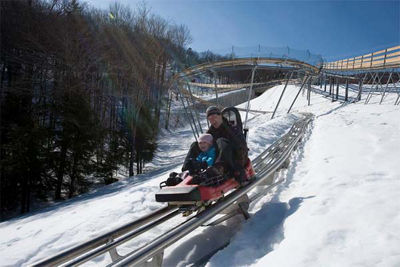 2022-2023 Winter Hours
Hours of Operation
Tickets may be purchased in advanced online or at all open ticket windows onsite.
Friday, Sunday, and Monday: 11am - 5pm
Saturday: 11am - 6pm
Tuesday - Thursday: CLOSED
*Holiday dates are: December 26th - January 1st, January 14th - 16th, February 17th - 26th
Requirements & Pricing
Please Note: Products online must be purchased in advance, at least one day ahead. Please visit our ticket windows at The Timber Ripper located in the Jackson Gore Courtyard for all same-day purchases. The "window" rate will apply.
Rides
Online Rate
Window Rate
1 Ride
Driver: $19
Passenger: $15
Driver: $24
Passenger: $17
3 Rides
Driver: $42
Passenger: $32
Driver: $52
Passenger: $38
Height/Rider Restrictions
Driver: Must be at least 8 years old and 52" tall
Passenger: Must be at least 3 years old and 36" tall
Driver & Passenger: Must be 16 and older to drive with a passenger
Adult must sign an activity waiver for children 17 and under.
In addition to purchasing tickets online, you may also purchase tickets through our Call Center at 802-228-1600 or in-person at the Timber Ripper ticket windows located in the Jackson Gore Courtyard during regular hours of operations.