See you at Okemo Soon
We're passionate about the outdoors and our mountain communities, and we're committed to protecting these special places and everyone who comes to experience them.
Previous tab
Previous tab
UPHILL TRAVEL HOTLINE (802)-228-1491
Uphill Travel Policy
UPHILL TRAVEL HOTLINE (802)-228-1491
UPHILL TRAVEL POLICY
UPHILL TRAVEL HOTLINE (802)-228-1491 on Twitter: @OKEMOUPHILLUPHILL TRAVEL POLICY
To join our mailing list send an email to OkemoUphill@vailresorts.com

Okemo and the Vermont Department of Forests, Parks and Recreation encourage the use of public lands. Our goal is for visitors to do so while maintaining our commitment to safety and the guest experience here at Okemo.
Okemo understands the desire of winter enthusiasts to hike, ski, and snowshoe. Grooming, snowmaking and other operations take place 24 hours a day throughout the resort. Skiers and riders must understand that they may put themselves at great risk by being on the mountain while these operations are in progress. It is the visitor's responsibility to confirm what designated routes are open by calling the UPHILL TRAVEL HOTLINE (802)-228-1491.Uphill access is not permitted prior to the resort's first day of operation.
UPHILL ACCESS HOURS
APPROVED DAYTIME UPHILL ROUTES
Daytime Hours Uphill access is allowed:
Beginning at 8:00am Weekends & Holidays / 9:00am Midweek

Ending 4:00pm

New Jackson Gore access is only available midweek
Approved Daytime uphill routes are:
Homeward bound, Kettle Brook (traverse across to Lower Chief), Lower Chief, Upper Chief (Contingent on Chief being used for racing)
Dream Weaver (take lift to access trail)

NEW! Jackson Gore, daytime midweek approved route being (right side of) Inn Bound (outside of the Tree Tap fence), (right side of) Fast Track, (left side of) Lower Limelight, (left side of) Blue Moon to (right side of) Sunset Strip.


APPROVED AFTER HOURS UPHILL AND DOWNHILL ROUTES
After Hours Uphill access is allowed:
Beginning at 4:30 p.m. Daily

Ending 15 minutes prior to Opening

7:45 a.m. Weekends & Holidays / 8:45 a.m. Midweek.
Approved After Hours uphill and downhill routes are:
Suncatcher, Dream Weaver

Sachem, Rimrock

Lower World Cup, Link

Lower Mountain Road, Lower Arrow, Upper Arrow, Route 103, Sapphire

Daybreak, Village Run

Inn Bound, Fast Track, Lower Limelight, Sunset Strip. From Jackson Gore Junction: Mountain Road, Upper Mountain Road
For route closures and changes, consult Okemo's Uphill Travel Hotline. Access to lifts and terrain parks is reserved for ticket holders, and we ask that all guests adhere to the skier responsibility code.
WINCH GROOMING OPERATIONS
• Winching operations are marked with reflective signage at the top and bottom of the winching zone.
• White strobe lights are in place at the top and bottom of the winching zone. White strobes are only utilized for winching operations that are in progress.
• Avoid all winching operations and plan ahead by calling the uphill travel hotline at (802)-228-1491

SAFETY GUIDELINES
These guidelines pertain to Hiking, Snowshoeing and skinning. Use of resort terrain during non-operational hours is done so at your own risk. To help minimize the risks to you and to our staff, we provide the following guidelines:
Outside of operating hours, grooming, snowmaking, snowmobiles, and other operations may occur at any time or at almost any place on the mountain.
• When traveling uphill, travel up on the left side of the trail (skier's right). When skiing your downhill route, please ski the middle of the trail
• Wear bright and reflective clothing and use a bright light at night.
• Avoid trails that have been recently groomed or have grooming in progress.
• Avoid trails with active snowmaking and never ski or ride over snowmaking hoses, as it puts our system and you at risk
• Entering closed terrain is prohibited; it is the user's responsibility to know what is open or closed. Terrain parks are closed outside of normal operating hours.
• Pets are not authorized to travel with uphill users of the mountain
• Never ski or ride alone. Be prepared for changes in weather. Snow conditions at night can be much different than daytime conditions
• Ski patrol is not available after resort operating hours. Any emergency response will be significantly delayed and will be handled by outside agencies. In the event of an emergency call 911.
Okemo recommends helmets as a consideration for skiing and boarding participants. We encourage all skiers and riders to educate themselves about the benefits and limitations of helmets. Okemo supports individual and parental rights to choose to wear a helmet or not.
And, Okemo promotes responsible skiing and snowboarding behavior as the key to long term slope safety. Follow Your Responsibility Code. Helmets can be rented from our Okemo Rental Shops or purchased at our Snow Sports Center locations throughout the mountain.
For more information on helmets, visit the NSAA website.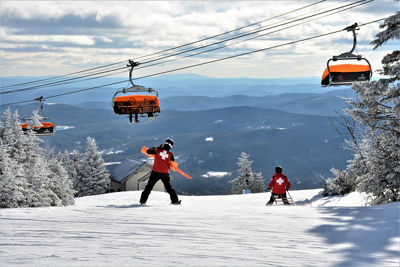 Ski Patrol & First Aid
Strategically positioned in seven locations around the mountain, Ski Patrol and First Aid services are never far away. If you are in need of assistance, you can proceed to the nearest Patrol House, or stop by any lift and the attendant will be happy to contact the patrol.
In case of an emergency, please call 802.228.1498
On Call Daily: 8 a.m.-4 p.m.
Use courtesy & common sense
Ski & Snowboard Safety
Skiing and snowboarding are sports that challenge the human spirit and require you to remain alert and use your common sense. Ski and snowboard in control, with caution and consideration for others. Be aware of changing conditions. Natural and man-made obstacles exist within the ski area, and are inherent risks in skiing and snowboarding.
Snowmobiles and other snow grooming equipment may be present on the mountain at any time. Respect closed trails and area boundary signs. These areas are closed for your protection. Be advised that while marking devices, warning devices and equipment covers are used to inform you of potential hazards, they do not guarantee your safety and will not protect you from injury. SLOW SKIING areas have been designed for beginner and congested areas. Slow down and go with the flow in these areas. We reserve the right to revoke your ticket for reckless or out-of-control skiing and snowboarding, or failure to observe rules and regulations.
In addition to Your Responsibility Code, the following tips can help reduce your risk and make for a more enjoyable experience:
Ski and ride only in areas compatible with your ability
Do not take friends down slopes that are beyond their abilities
After falling on the slopes or lift ramp, move away quickly to avoid becoming an obstacle to others
When resting on a trail, move to one side to avoid blocking others
Look ahead and to either side of you and be prepared to stop at any time
Ski or ride with a buddy, especially in places where you could need help, such as in trees or deep powder
Ski and ride defensively. Expect the unexpected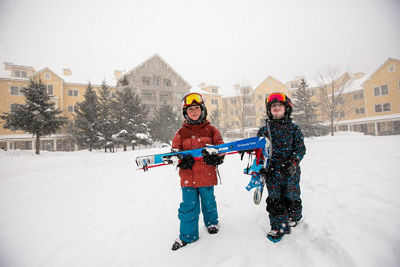 Kids' Safety Tips
Make sure your child has your name and phone number of your hotel/condo written down on a piece of paper in a zipped pocket.
Show your child what a ski patroller looks like and tell them to find one of them if they get lost.
It is a good idea to decide which lift you will ski next so if you get separated you can meet there first.
For a backup plan, choose a place to meet in case you are separated from each other, for example, at the mid-mountain Sugar House Lodge.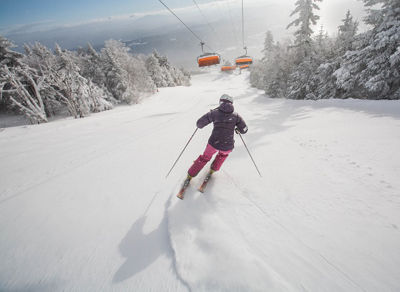 Your Responsibility Code
Your Responsibility Code:
1. Always stay in control. You must be able to stop or avoid people or objects.
2. People ahead or downhill of you have the right-of-way. You must avoid them.
3. Stop only where you are visible from above and do not restrict traffic.
4. Look uphill and avoid others before starting downhill or entering a trail.
5. You must prevent runaway equipment.
6. Read and obey all signs, warnings, and hazard markings.
7. Keep off closed trails and out of closed areas.
8. You must know how and be able to load, ride and unload lifts safely. If you need assistance, ask the lift attendant.
9. Do not use lifts or terrain when impaired by alcohol or drugs.
10. If you are involved in a collision or incident, share your contact information with each other and a ski area employee.


Winter sports involve risk of serious injury or death. Your knowledge, decisions and actions contribute to your safety and that of others. If you need help understanding the Code, please ask any ski area employee.
SMOKING/VAPING AND THE CONSUMPTION OF ALCHOL IN LIFT LINES AND ON CHAIR LIFTS IS PROHIBITED.
Know The Code. It's Your Responsibility