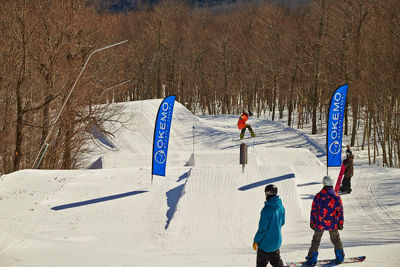 next level parks
Home to the East's longest superpipe and with a renewed focus on terrain park progression, Okemo Mountain Resort is committed to offering some of the most innovative parks in the region.
You can expect to find creative, next level parks with features that flow from one to the next, new learning terrain that will allow you to build your skills, and unique riding opportunities for guests of all ages and ability levels.
Terrain Parks Report
We're continuously re-imagining the way we design our parks, and the way you access them. Don't miss all of the new opportunities to advance your skills and work your way up.
View Status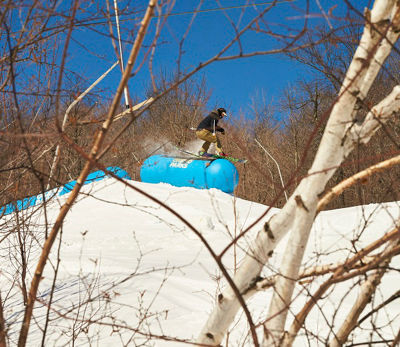 The Zone
A skate-park influenced terrain park with a wide range of transitions, rails, boxes and jibs. The park is a great warm-up for the Superpipe.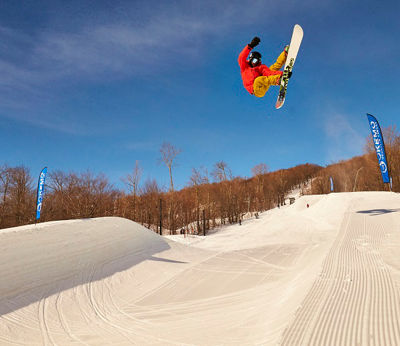 Okemo Halfpipe
Located in The Zone, the pipe measures at 520 feet long, with 18-foot walls. Maintained by our Zaugg Pipe Monster and serviced by The Pull surface lift, where else will you find a pipe cut with laser technology? No joke. Our parks crew put their Yankee ingenuity to work to design a system that provides laser-precision when cutting the pipe.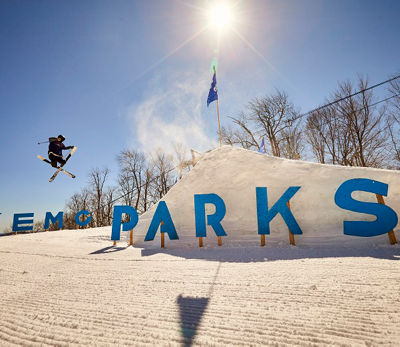 OMS Crazy Train Park
The OMS Crazy Train Progression Park is the ultimate park for advanced skiers and riders. Featuring an advanced slopestyle influenced competition course and training grounds, Crazy Train was designed to house medium and large features for those with experience. Crazy Train has been created in partnership with Okemo Mountain School.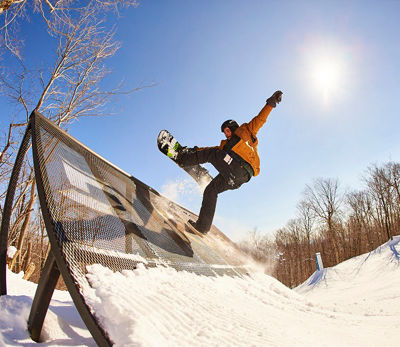 Tomahawk Terrain Park
The Tomahawk Terrain Park includes unique, highly creative small and medium features and an improved terrain experience that allows you to flow from one feature to the next. The park is located on the Lower Tomahawk trail and can be accessed via the Evergreen Summit Express or the Solitude Express Quad.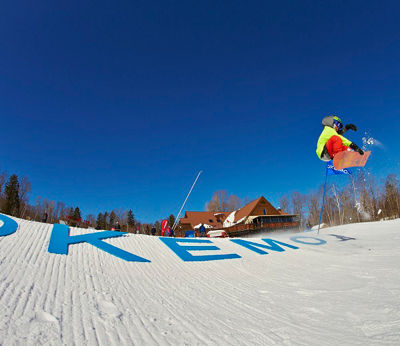 Hot Dog Hill
An incredibly animated park that includes a mix of small to medium features. And, with quick access from A or B Quad, you can easily make lap after lap.

New this year, Hot Dog Hill will feature a brand new Vermont Adventure Run, a sloped course accessible to skiers of all levels with a signature feature - Vermont's first ski-through covered bridge. The Vermont Adventure Run is brought to you in partnership with Toyota.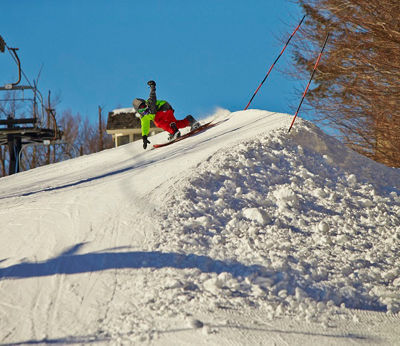 Robbins' Nest
A family-friendly start park that has moved over to the Jackson Gore base area (formerly called Bounder Park). Robbins' Nest is the ultimate place to session ultra fun features and practice your skills. Lap it from the Coleman Brook Express Quad.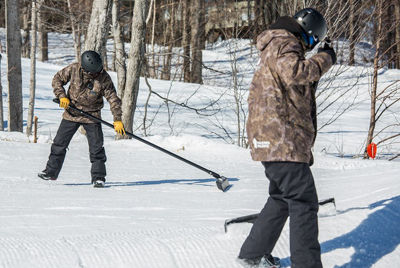 Know it... Respect it... Use it.
NSAA and Burton Snowboards have developed this safety initiative to support the proper use and progression of freestyle terrain.
Freestyle terrain includes jumps, hits, ramps, banks, boxes, jibs, rails.. you get the idea.
MAKE A PLAN
LOOK BEFORE YOU LEAP
EASY STYLE IT
RESPECT GETS RESPECT
More Safety Information
Know your limits and ability level and select appropriate terrain for YOU.
Know the intended use of the terrain you have chosen. Some features are intended to be used in a series with no stopping. Others individually with stopping areas. Don't know? Ask.
Your actions can take you out of balance and cause serious injury, no matter how the feature is designed or where you land. Land on your feet.
Transitions are changes in the shape and pitch of the snow or feature, or changes from one type of sliding surface to another. They can be gentle or abrupt and demand that users be alert and respond with accurate movements.
Know where to land. The SWEET SPOT is between the "knuckle" and the center of the landing zone.
Inverted maneuvers are not recommended at Okemo.
Be aware that features change constantly.
Read and obey all signs, instructions and warnings.
Learn How to Ski or Ride the Parks
Not familiar with how to use terrain parks, or want to make sure you're doing it right? Terrain parks require certain knowledge beyond just basic skiing or riding. Okemo encourages you to contact the Okemo Ski + Ride School and arrange a lesson specific to terrain parks. Private and group lessons available.
Embark on your terrain park mission!
Learn More