CHILDCARE OPEN FOR THE SEASON​
We are open daily for child care. Reservations are required, please call 802-228-1441 to make a reservation.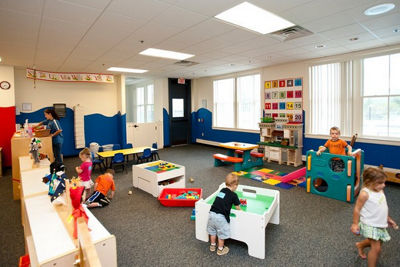 Great Slopeside Child Care
We don't expect you to trust your kids with just anyone. The Okemo Penguin Playground Child Care, located at the Jackson Gore Base Area, is warm, interactive state-licensed facility bustling with activities and fun. Each day, children 6 months to 4 years of age participate in arts and crafts, painting, story telling and singing.
Reservations are strongly encouraged for all child care programs, especially during weekends and Holiday periods when space will fill quickly. Please also read our Illness Policy.
Call to Book
Previous tab
Previous tab
Times to Remember
Please note: Only full day registration is available this season.
8:00 a.m. - 10:00 a.m. Drop off (Weekends and Holiday Periods)
8:30 a.m. - 10:00 a.m. Drop off (Midweek)
3:00 p.m. - 4:00 p.m. Pick Up
4:00 p.m. Penguin Playground closes for the day. Late fees apply for picking up your children after the center closes.
Rates
| Childcare | Advanced | Window |
| --- | --- | --- |
| Infants up to 18 months | $189.00 | $189.00 |
| 18 months to 32 months | $184.00 | $184.00 |
| 33 months to 5 years | $179.00 | $179.00 |
Adult to Child Ratios
Okemo takes the care of your children seriously. Our adult/child ratios comply with state regulations and our centers staff accordingly:
6 month to 18 months 1:4 ratio
18 months to 32 months 1:5 ratio
33 months to 5 years 1:10 ratio
With advanced notification, arrangements can be made for children requiring smaller group care (physical, learning or developmental special needs). Please contact the Day Care Director to discuss your child's specific needs well in advance of your stay.
Helpful Reminders
Minimum age is 6 months.
Label all belongings prior to arrival.
Label and supply food, formula bottles (for infants), sippy cups, special toys or blankets.
The Penguin Playground Child Care is a peanut-free environment. Many chocolate products also contain peanut oil or are processed on machinery that processes nuts. Peanut and chocolate products are not permitted in the Child Care.
Please supply a sufficient number of disposable diapers/pull-ups (we recommend at least 8 for the day) and wipes for all children not toilet trained. Please label wipes containers.
Bring a change of clothes (accidents do happen!) and appropriate outdoor wear.
Shoes must be worn inside the Center. Slippers and sandals are NOT permitted.
Please remember to pick up your child promptly at the end of his/her session. A charge of $20 per child may be assessed for late pick-ups.
In order to maintain the integrity of the program, please plan to arrive during check-in times. Please call if you will be arriving late.
You may need to spend some time while your child adjusts. Always let your child know you are leaving and reassure them that you will return.
Parents (with proper identification) are welcome to visit at any time.
What To Bring:
All outdoor gear including hats, mittens, boots, and snow pants.
They need to bring diapers, wipes, and formula/breast milk if applicable.
Reservation Info
Advanced reservations are required. Call 802-228-1441 or email OkemoChildCare@vailresorts.com for more information..
A completed Registration and Information form and up to date immunization records are required at check-in on the first day of your child's visit. Please allow sufficient time to complete all necessary paperwork. (This paperwork will be made available to you prior to your arrival so that you may fill it out in advance and bring it with you.)
You will be issued a code on our Brightwheel App to check your child in and out of the center. You will need to have the code or have two forms of identification (one must be photo) and be listed on their registration form as a person with permission to pick up the child.
Nannies/babysitters/au pairs are not permitted to stay in the Day Care, but may pick up your child with authorization and proper identification.
Child care professionals will not administer medication. If your child requires medication during his/her stay, it will be your responsibility to administer it.
If your child will not be arriving by 10 a.m., please inform the center.
Additional Notes for Parents
Parents with proper ID will always have access to the Child Care Center.
As a fully-licensed Child Care center by the State of Vermont, we are required to report any suspicion of child abuse, whether it be physical, emotional or sexual.
Should you desire any additional information, or have any concerns about the welfare of your child, please speak directly with our Child Care Director or one of her staff.
Please notify Child Care staff regarding any special needs, including food allergies or dislikes, and any physical or medical considerations. This information should be detailed on the forms required at registration.
We endeavor to keep all the children in our care safe and healthy. No child will be admitted to Penguin Playground, or be permitted to remain in the Child Care, who is too ill to be in child care.
Please read our Illness Policy.
Pre-Arrival Information
Save time at Check-in by completing forms ahead of time
We use Brightwheel to communicate with parents and post pictures throughout the day. Sign Up ahead of time and fill our our Resort Guest Enrollment Form online.
We provide water, two snacks and a lunch for children.
Cancellation Policy
All reservations are refundable with 48 hours advanced notice.