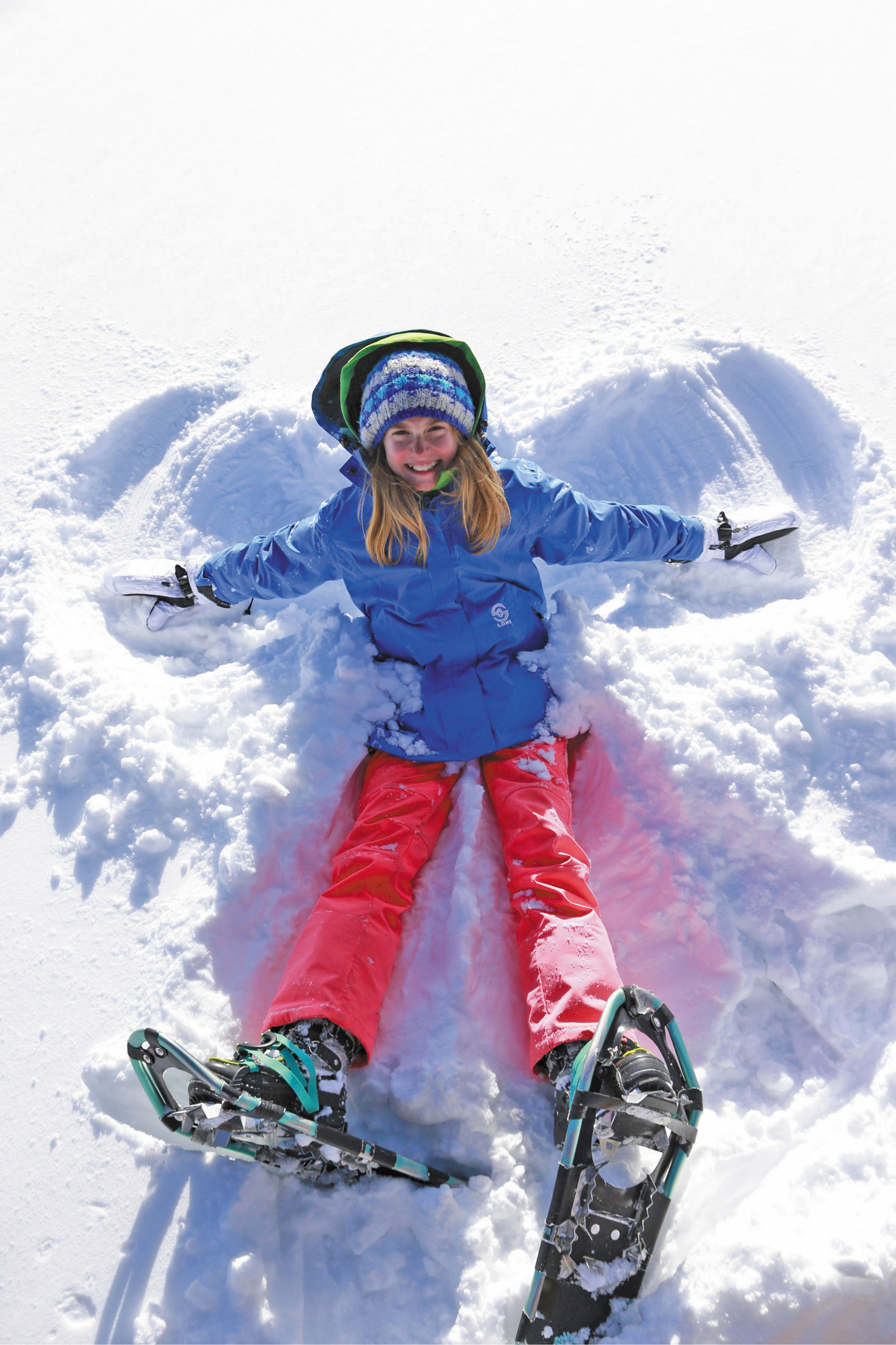 Vermont is one of the nation's best places for winter sports. You may love carving down Vermont's ski mountains, but if you want to try a new family winter activity, snowshoeing is one of the most accessible ways to enjoy the rural scenery and peacefulness of a Vermont winter. Throughout the Ludlow Valley region, you will find some of the best snowshoe trails in Vermont. At Viking Nordic Center, you can even snowshoe the trails at night, when they are lit up by gas lamps.

One of the earliest means of winter travel, snowshoes date back 6,000 years, and if you can walk, you can snowshoe, making it a fun winter activity for first timers. All you need are a few layers of clothing and a pair of snowshoes to take in some fresh air and get some invigorating exercise.

There are countless trails in the Ludlow area. Some are groomed and some offer a backcountry experience. The area also offers both self-guided trails and guided tour options that offer breathtaking views. Snowshoeing is free for the most part, but some recreational areas have a daily trail fee.

For snowshoe rentals in the Ludlow area, you'll need to head to a dedicated resort. Check out Fox Run Nordic Center in Ludlow, the Woodstock Inn and Resort in Woodstock, the Viking Nordic Center in Londonderry, or Grafton Trails and Outdoor Center in Grafton if you need equipment.


Here are eight of the best places to snowshoe near Okemo Mountain
Fox Run Nordic Center
Just across Route 103 from Okemo, the
Fox Run Golf Club
turns into a winter playground when the snow falls. There are about seven miles of dedicated snowshoe trails that traverse meadows and rolling hills with unbeatable views of Okemo Mountain. The trails are well-groomed and enjoyable for beginners, making it a great option for the family. Lessons, rentals and demonstrations are also available. As an added plus, the trails are dog friendly. You'll need to purchase a day pass to experience this fun area.
Echo Lake Vista Trail
This 1.1-mile out-and-back trail in Plymouth
, about six miles from Okemo, is perfect for beginners. It starts at Scout Camp Road on an old logging trail and ascends just 288 feet. As a reward for making it to the top, snowshoers get a sweeping view of Echo Lake and the mountains. Leave the dogs at home, though, as they are not allowed on this trail.
Healdville Trail
This out-and-back six-mile trail in Mount Holly
is just a few miles from Okemo and has a stunning 360-degree view at the top. It starts on an old logging road and follows the gorgeous Catamount Trail in the Okemo State Forest. The highlight at the summit is a former fire lookout tower with a view that is unbeatable, allowing you to see some of southern Vermont's notable mountains, including Okemo straight ahead, Mount Ascutney to the east, as well as Glebe Mountain and Mount Snow. Stratton Mountain is visible in the far distance as is Bromley Mountain, Dorset Peak and the Taconic range, to the west. You can also see the peak of Killington Mountain to the north. The trail is moderately challenging with a steady incline. It's popular and well-marked, so you likely won't need to break trail. The hike takes about 3 ½ hours and has an elevation gain of 1,942 feet.
Lost Mine Trail
This 2.1-mile loop trail is located in the Chester Town Forest
, about 16 miles from Okemo. The trail features an old mine that dates back to the late 1800s. The mine is one of only three known sources in the world of chesterite — a mineral that was named for the nearby town of Chester, but which has no current uses. The trail leads to an opening where you can take in a view of Mount Ascutney. The trail takes about an hour to complete and is considered moderately challenging with a few steep ups and down and passes frozen streams. Dogs are welcome but must be on a leash.
North Springfield Reservoir Trail
If you want to go for a longer snowshoe, this
8.4-mile loop trail near Perkinsville
is about 15 miles from Okemo. Generally considered a moderately challenging route, it takes about 3 hours to complete. The trail is nice and flat with an elevation of 577 feet and follows a river through winding woods. The trail is very quiet and peaceful and has beautiful views of Mount Ascutney. Leashed dogs are welcome.
Viking Nordic Center
The Viking Nordic Center
in Londonderry, about 18 miles from Okemo, is one of the best places to take a family. It has 28 kilometers of groomed trails that pass through historic woods and meadows as well as about 4 km of dedicated snowshoe trails. It's perfect for first-timers or experts. Stop at the trailside cabin where a small cafe serves soups, chili, sandwiches, hot chocolate and cookies. You can also snowshoe at night, when the of trails are lit up with 1900's-era gas lanterns that sparkle in the snow. Childcare options are available. There are also equipment rentals and lessons. You will need to purchase a day pass.
Grafton Trails and Outdoor Center
This 2,000-acre recreational center in the historic village of Grafton
is well worth the 20-mile drive from Okemo. Snowshoeing is offered on 10 kilometers of trails, and the Center offers guided snowshoe tours, with views of the beautiful Vermont landscape. While you're there, you may want to check out the award-winning Grafton Village Cheese Company and stroll around the village of classic Vermont homes.
The Pogue and Mount Tom Trail
If you go for a short drive, Woodstock has many gorgeous, impeccably maintained trails. The
Mt. Tom trail, a 4.2-mile loop trail
that's about 25 miles from Okemo, is one of the best options. The top of the trail has amazing views of the historic Woodstock village as well as a breathtaking view of the Pogue, a man-made 14-acre pond. The trail takes about 2 hours to complete and has an elevation of 643 feet. The route is very well used, so it's unlikely you'll need to break trail. No day pass is required, and rentals are available at the Woodstock Inn and Resort. After, go for a meal in Woodstock or stroll its historic village.
Produced in partnership with Vermont Ski + Ride Magazine.