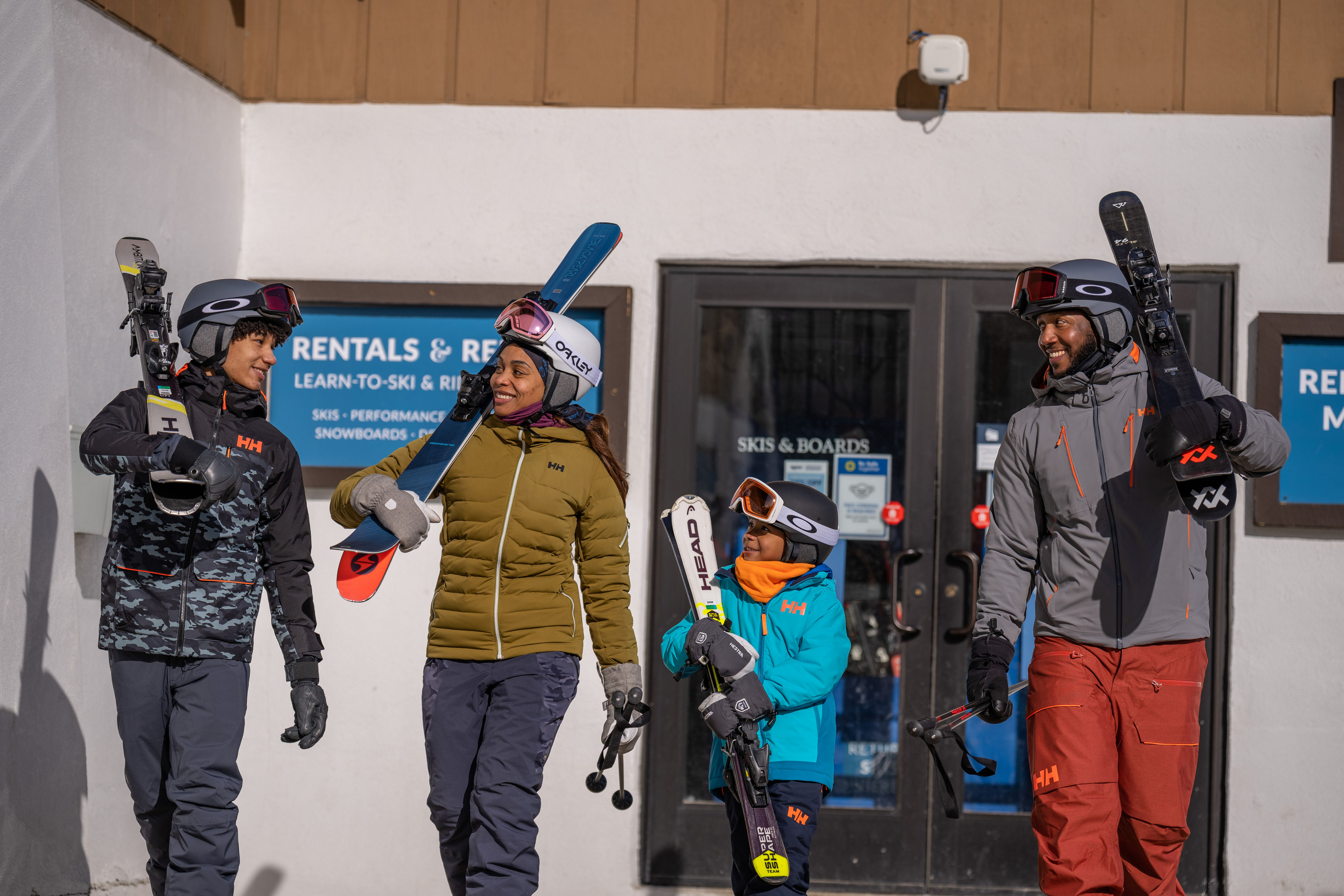 If there is one thing that will make you not just a better skier, but a happier skier, it's having a ski boot that fits well. Unlike running shoes or hiking boots that flex and mold to your feet, ski boots are made to be stiff. It's that stiffness that helps you power and guide the ski. That's why, typically, ski racers and expert skiers opt for the stiffest boots they can find.
Racers also will usually do everything they can to ensure the boot not only fits their feet, but actually helps them both feel and perform better. They will usually have custom insoles made to replace the stock footbed. These insoles are molded to help account for discrepancies among feet such as high or flat arches.
Heel lifts placed under the insole can help reduce the pressure on the calf. For those with large calves, removing a shim or spoiler in the back of the boot or extending the buckle opens up room. If a bunion or toe is rubbing, boots can actually be stretched or "punched out" in places.
A racer or expert skier may also want their stance analyzed and cants added to help with alignment.
In other words, there are lots of options on how to improve the fit of ski boots. But those are not just for racers anymore.
In fact, most of the customers that head into ski shops with foot pain or ski boot problems are not competitive skiers, but people who simply want to be more comfortable in their ski boots. "You really should not put up with any discomfort in your boot," says Shon Racicot of The Boot Pro, located at the base of the Okemo Mountain Resort access road. "There are so many ways we can help fix fit problems today." Even something as simple as adding boot heaters — a battery-powered pad that warms the soles of your feet — can make a huge difference.
Fortunately, if you have questions on how to fit your ski boots, Ludlow is a hotbed for bootfitting with some of the most respected bootfitters on the East Coast based right in town. And that's important because often if you have your boots worked on, or are breaking in new boots, you will want to take them out for a test run or two and then bring them back for more fine tuning.
Get Better Fitting Boots at These Ludlow Shops
These local shops near the Okemo Mountain Resort can help you not only fit the boots that you are currently in, but they can look at your feet, get to know you as a skier and recommend what your next boot should be.
The Boot Pro
Shon Racicot, owner of The Boot Pro Ski Shop in Ludlow and a lifelong Vermonter, has been selling and fitting ski boots for more than 30 years, and his wife and business partner Alex has taught skiing for more than a decade. For the last 20 years, they've owned The Boot Pro at the base of the Okemo Mountain access road. "Bootfitting is really one of Shon's passions," says Alex. Shon is not only a Masterfit-certified bootfitter, but he's been through the annual training camp, Masterfit University, more than 17 times.
While The Boot Pro sees plenty of experts and racers (including the Racicot's kids) as well as beginner and intermediate skiers, it has also become the go-to place for alpine touring gear and more and more people are opting for alpine-touring or "AT" boots as their boot of choice for both alpine skiing and "skinning" or uphill skiing.
"The new AT boots have come a long way and we are starting to see the downhill performance you might get with an alpine boot," notes Racicot, who adds the disclaimer that he uses two boots: one for touring one for resort skiing. "I'm at heart a racer and still like the precision of an alpine boot," he says. "But these new boots with liners and shells that can be molded are much easier to fit than the AT boots of the past. The use of new liner materials has also made boots warmer. And manufacturers have started producing boots in wider lasts which makes the fit more comfortable for a variety of foot shapes," he says. "Plus, with walk modes and rockered Vibram soles, if you're walking around the lodge, you won't skid out on your way to the bathroom," he says. The shop carries both alpine and AT boots from brands such as Atomic, Fischer, Lange and Nordica and Scarpa touring boots.
The Totem Pole Ski Shop
Vermont's oldest family-run ski shop, the Totem Pole Ski Shop, is also just a couple of miles from the lifts at Okemo Mountain Resort and run by a long-time pro, Ken Tofferi. As a junior racer, Tofferi was one of the top three downhill racers in the East. But he wanted to do more than just bash gates, so he got into freestyle skiing and was one of the leading money-winners on the circuit during its heyday, in the early 1970s. He also broke the record for the Gelandesprung at Vail (a citizens' ski jumping competition) by more than 30 feet. In a nutshell: Tofferi knows just about every aspect of skiing and since 1967, he's helped solve customers' problems. Now, his son Torin is working with him. Like his dad, Torin has top accolades as a college ski racer, but he's also an ACA board-certified pedorthist who can make you a custom footbed. The shop carries nearly 80 models of boots from brands such as Lange, Tecnica and Full Tilt.
Tygart Mountain Sports
"If you're a top racer, I'll send you over to Torin at The Totem Pole," says Charlie Rimer, the general manager of Tygart Mountain Sports in Ludlow. "We tend to focus on finding the right fit for recreational skiers," he says. "We do get everyone from beginners to race coaches coming in to buy boots or get fitted but our main focus is making sure people are in the right boots and educating them. The most common problem is people are in ski boots that are too big for them," he says. "We try to educate customers and help get them into the right boot in the first place." In October 2021, the shop purchased a new 3D Vandra scanner produced by BootDoc. "It helps us take all the foot measurements that used to take 25 minutes or so in a matter of seconds," says Rimer. "We can then print out a full visual of your foot and our bootfitters can work off that." This helps reduce the slight discrepancies that can occur with tape measurements and other devices. Among the brands that Tygart carries are Tecnica, Dalbello, Solomon and Head.
Produced in partnership with Vermont Ski + Ride Magazine.