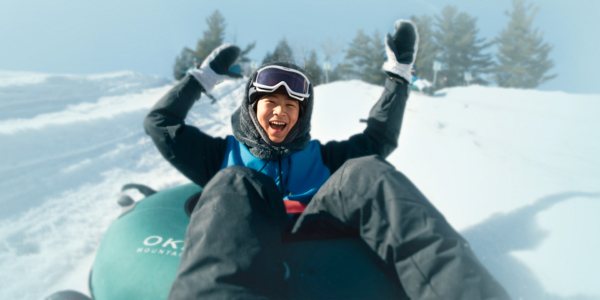 Contrary to popular opinion, Vermont's ski mountains aren't just for sliding down on skis or a board, and Okemo Mountain Resort in Ludlow is no exception. One of the best family resorts, known for its family-friendly atmosphere, there are plenty of fun winter activities for the whole family to enjoy after a day on the slopes. From ice skating, sledding and snow tubing to swimming to riding a four-season roller coaster, there are many options for families to do at Okemo Resort off the slopes. Experience the best Vermont winter vacations with these 10 family activities to do in and around the Ludlow area.
Take a Mountain Coaster Ride
Some ski areas have mountain coasters that are open in the summer. Okemo's Timber Ripper Mountain Coaster is open four-seasons, offering a scenic roller coaster-like ride through the woods and mountain sides of Jackson Gore. The ride covers 3,100 feet of rollers, banking loops and has a twister section. Parents and kids can ride together in the sled-like cars. They can carry up to two passengers and can go as fast as 25 mph. Brakes on the cars let the riders control their speed so they can go at their own pace.
Try Ice Skating
Right at the base of the slopes at Jackson Gore, check out the Ice House — a 115-by-215-foot skating rink. Skate rentals are available, and an ice resurfacing machine keeps the skating surface smooth and in top condition all day. If you need to warm up or take a break, there's a gas-fueled fireplace in an adjacent building.
Go for a Swim
After the slopes, hop in a heated pool. Jackson Gore at Okemo has two pools. The Spring House features an indoor heated pool with a frog slide for young kids to explore. Kids and adults can also swim outside in the winter at Jackson Gore Inn's outdoor heated pool, which is plenty warm enough to splash in year-round. Teens and adults can also relax in the hot tubs and saunas, located near the pools.
Go Sledding and Tubing
Jackson Gore has lift-served tubing lanes, making it the perfect apres-ski activity and offering plenty of laughs for the family. If that's not enough, take a short drive to Ascutney Outdoors in West Windsor, which offers a 500-foot tubing lift and a groomed slope of natural snow to slide down. For free sledding and tubing, head to the Pinnacle in Chester for a fast downhill experience. Don't forget to bring your own sled to the Pinnacle or buy one at Lavalley Building Supply in Ludlow or Chester Hardware in Chester.
Take a Horse-drawn Sleigh Ride
There's nothing like a horse-drawn sleigh ride in the winter. Sleigh rides are offered every half hour, weather permitting, at Grafton Trails & Outdoor Center, which is just a short drive from Okemo, in the historic village of Grafton. The sleigh takes guests through scenic woods and groomed trails to the sound of jingling bells as the horses trot along. Bring a blanket, meet the horses and get ready to have fun with the whole family.
Try Fat Biking
Explore the miles of beautiful multi-use trails in Woodstock HOW by biking in the snow. Fat biking is a slightly different experience from riding in the dirt, but as you'll soon realize, it's just as fun. The Woodstock Inn and Resort has fat bike rentals available for children as young as 8-10 years of age as well as adults and teens. Many of the trails are groomed or packed down by snowshoers, making for a smooth bike ride.
Go Toy Shopping at the Vermont Country Store
On your way to Okemo, get off the interstate in Rockingham and visit the Vermont Country Store for old-fashioned candy and a huge selection of vintage toys, like the ones you grew up with, as well as new high-quality models. The store offers a hands-on experience so kids can explore all they want to. Have lunch here at Mildred's Grill, and don't forget to try the free samples, including Vermont cheeses, dips, maple syrup and fudge.
Go on a Cookie Hunt
Take your kids cross-country skiing or snowshoeing to the beginner-friendly trails of the Viking Nordic Center in Londonderry and while you're there, participate in the Great Cookie Hunt. It's the perfect treat for kids 12 and under. Hidden on the trails are five wooden snowflakes and Viking helmets. Once kids find all five, they get a free cookie. As a bonus, if kids find the red Super Punch, they get a free hot chocolate with their cookie. Adults can participate, too. If adults find all of the Viking's wooden faces out on the trails and take photos of them, they earn their own free cookie. Cross country ski and snowshoe rentals are available for kids and adults.
Go Snowmobiling
There are about 3,000 miles of scenic snowmobile trails to explore in the state. Check out Snow-Country Snowmobile in Proctorsville, just two miles south of Okemo, to rent snowmobiles. One-hour guided tours are available beginning at 8 a.m., or you can snowmobile a bit longer. Go snowmobiling for a half day or full day. Helmets are available. Participants are asked to dress appropriately. Whether you're an advanced rider or first timer, check out the quintessential woods of Vermont up close.
Play Racquetball
The Spring House at Jackson Gore has two racquetball courts with rentals available. Court times are available from 8:30 a.m. - 7:30 p.m. Play racquetball or wallyball with the family and get some good exercise while letting out pent-up energy at the same time.