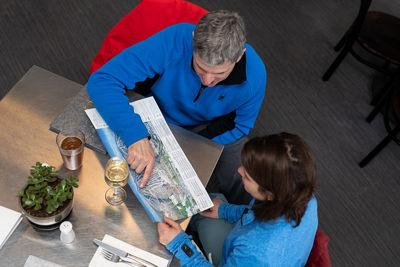 Epic is a visual and culinary adventure, featuring an eclectic and inviting atmosphere. Notably it is one of our guests favorite spots to have lunch at Okemo and is located at the base of the Solitude lift.
Executive Sous Chef Mark Wiegand, most recently of Okemo's own Coleman Brook Tavern & Siena, leads the culinary team at Epic. With over 20+ years of culinary experience under his belt, every dish is a flavorful work of art. Chef Mark also works closely with local farmers and artisans to bring you the flavors of Vermont's terroir. It is that infusion of wonderful food, superb service, breathtakingly beautiful views and a circular fireplace that will ensure you an unforgettable culinary experience. We hope you enjoy it as much as we enjoy presenting it to you. With such great items as B.Y.O.B Wagyu Burgers, Chef Mark's "Local Lunch" specials, and various small plates for snacking, there is something for everyone to enjoy.
In a hurry? Visit the Deli at Epic. This quick-service counter is located just outside the Epic restaurant, serving soups, breakfast and lunch snacks, hot coffee and cocoa.