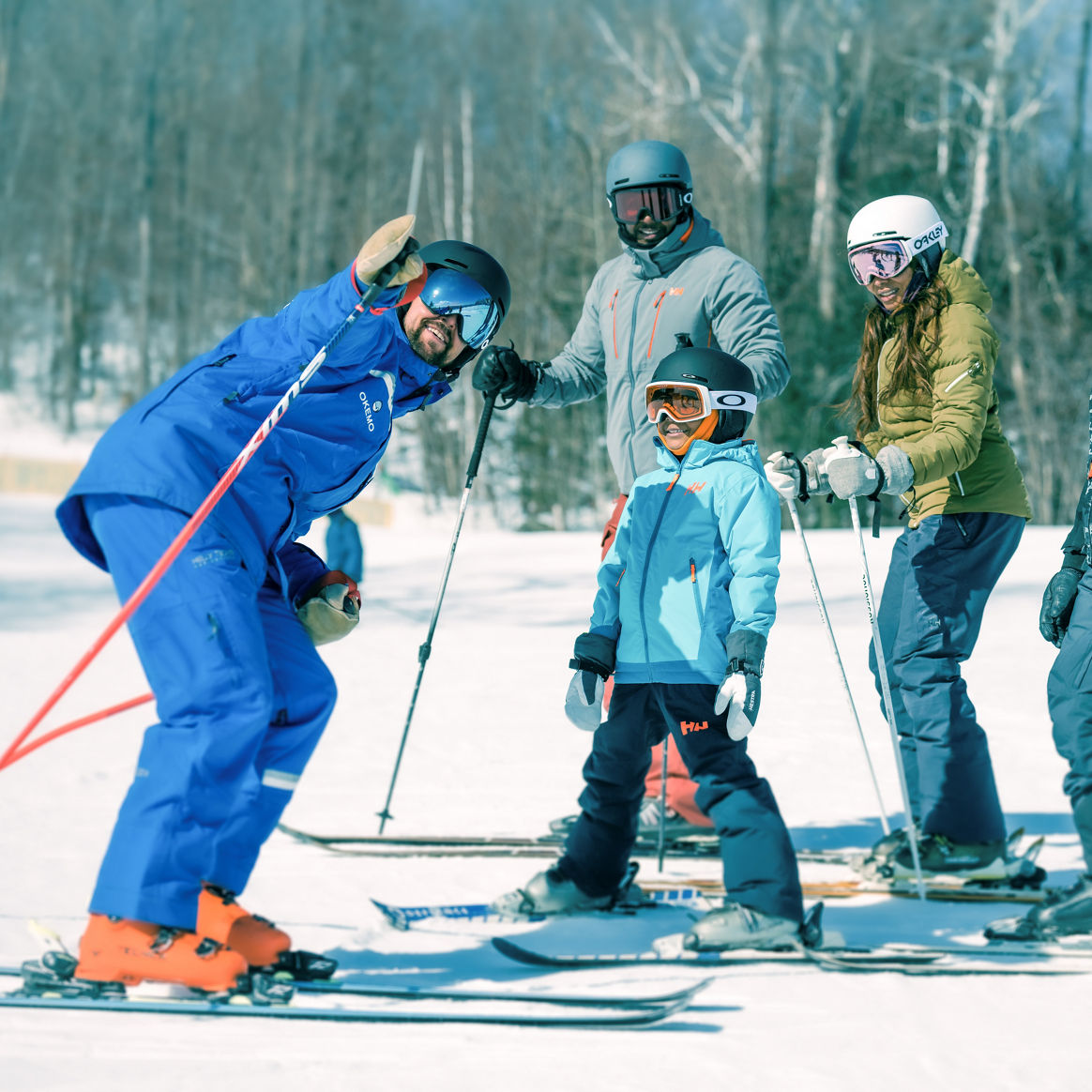 With wide trails, a reputation for some of the best snow grooming in the East and plenty of gentle beginner and intermediate terrain, Okemo Mountain Resort has long had a reputation for being a great place to learn to ski or snowboard. "We like to start kids off learning as young as three," says Keri Reid, Okemo Mountain Resort's Ski + Ride School manager. "But it's really a great place for anyone of any age to learn or take a lesson," she says. Here's why it makes sense to take a ski lesson at Okemo, whether you're new to skiing or just want to improve.
You will get better
Let's face it, learning anything new can be a challenge. If you are an adult, say someone who has mastered a half-dozen sports, it's not easy to start fresh as a beginner. But don't let that deter you: with a lesson, you can improve quickly as a skier or a snowboarder. "Typically, someone who is learning but is athletic can be turning, stopping and getting on a chairlift the first day," says Keri Reid, who has been teaching skiing for more than 20 year and is an Examiner for the eastern division of the Professional Ski Instructors of America.
Your partner or parent will thank you
No matter how good a skier a partner or a parent might be, students are more likely to learn more from a professional trained in the latest techniques—people who know skiing or riding and how to teach those sports. While partners you ski with may be able to assess what you are doing wrong, being able to translate that into actionable advice on how to change your stance takes the skill of a pro. "There's also an interpersonal dynamic that is really different when you are with a professional and it gives a fresh perspective," notes Reid.
You will be safer
Becoming a good skier or snowboarder involves some fundamental basics: being able to stay in control at any speed and stop when you need to, even on ice or steep terrain, is foremost. That's really important not only for your own safety but for that of those around you. "A lesson will help you to understand the rules of the road, the etiquette of how to travel on the mountain and it's not something people easily pick up on that," says Reid.
You will be less sore
Part of learning to ski involves learning how to use your weight, the shape of the skis or snowboard, and the forces of gravity efficiently together. Often, beginners expend twice as much energy as seasoned skiers because they are "fighting" the hill rather than letting gravity and the equipment work for them. An Okemo ski lesson can help you learn how to make a clean turn simply by weighting and unweighting a ski or snowboard and allowing its shape to naturally turn, rather than using your feet, ankles or legs to force your boards around. "A lot of people tend to lean too far back on their skis, which strains your quads," Reid notes. Learning the right stance will make skiing or riding easier and more enjoyable.
You will learn to use the right equipment
"I see so many people who are in boots that are just too big for them," says Doug Stewart, a PSIA Level III instructor who has taught at Stowe Mountain Resort and worked as a boot fitter for many years. "Having the right boots that fit well can vastly improve your skiing, as well as comfort," he says. "It's exciting to get a new set of skis but the reality is the ski boot is the foundation of what you do. I will always encourage skiers to spend money to make sure they have good boots before they go out to buy skis," says Reid. Often, it takes the professional gaze of an instructor to identify when you may not be using the equipment that's best for you. That can apply to skis as well. You may be skiing on skis that are too wide for Eastern terrain or too stiff for you to bend properly going into a turn. Or your skis may simply be old and desperately in need of a tune.
You will break bad habit
Even the best skiers and riders, people who have been making turns on snow for decades, can improve with a lesson. "People are always challenged with speed control. You start out at a certain speed and as you improve, you figure out how to slow down while skiing, instead of needing to pull over," says Reid. Other times, a skier or rider may be able to turn beautifully one direction, but not in the other. An instructor can assess this and help you overcome bad habits.
You will be challenged to reach a new level
You may be an excellent skier who can make it down any black diamond trail with style and confidence, maybe even any double black diamond trail. But how fast are you skiing? How many tight turns can you make before you either stop or your technique gets sloppy? Are you comfortable in ungroomed snow, heavy crud or skiing in the tight trees? Too often when we ski with the same people, or by ourselves, we fall into a set rhythm. An instructor will help push you to the next level, whether that means becoming more confident on ice or in moguls, or carving smoother, faster turns. "For skiers who want to focus on a particular challenge –say learning how to ski deeper snow or the trees to prepare for a trip out West—we recommend a private lesson," says Reid.
You can make new friends
"A group lesson is a great way to meet other people and it's at a different price point. It's a great environment if you are not quite sure what your goals are but just want to improve," says Reid. Okemo is also known for special clinics, such as the Women's Alpine Adventures, designed for women and led by expert women coaches. "We form these groups around interests as well as abilities – say folks want to learn how to improve on moguls," says Reid. In 2023, the two- or three-day clinics will be held January 25-27, February 2-3 and March 2-3. "It's a really fun environment and lunch and an apres-ski hour are included," says Reid. And for children? It's always a lot more fun to ski with other kids of a similar age rather than tag along behind mom or dad.
Produced in partnership with Vermont Ski + Ride Magazine.