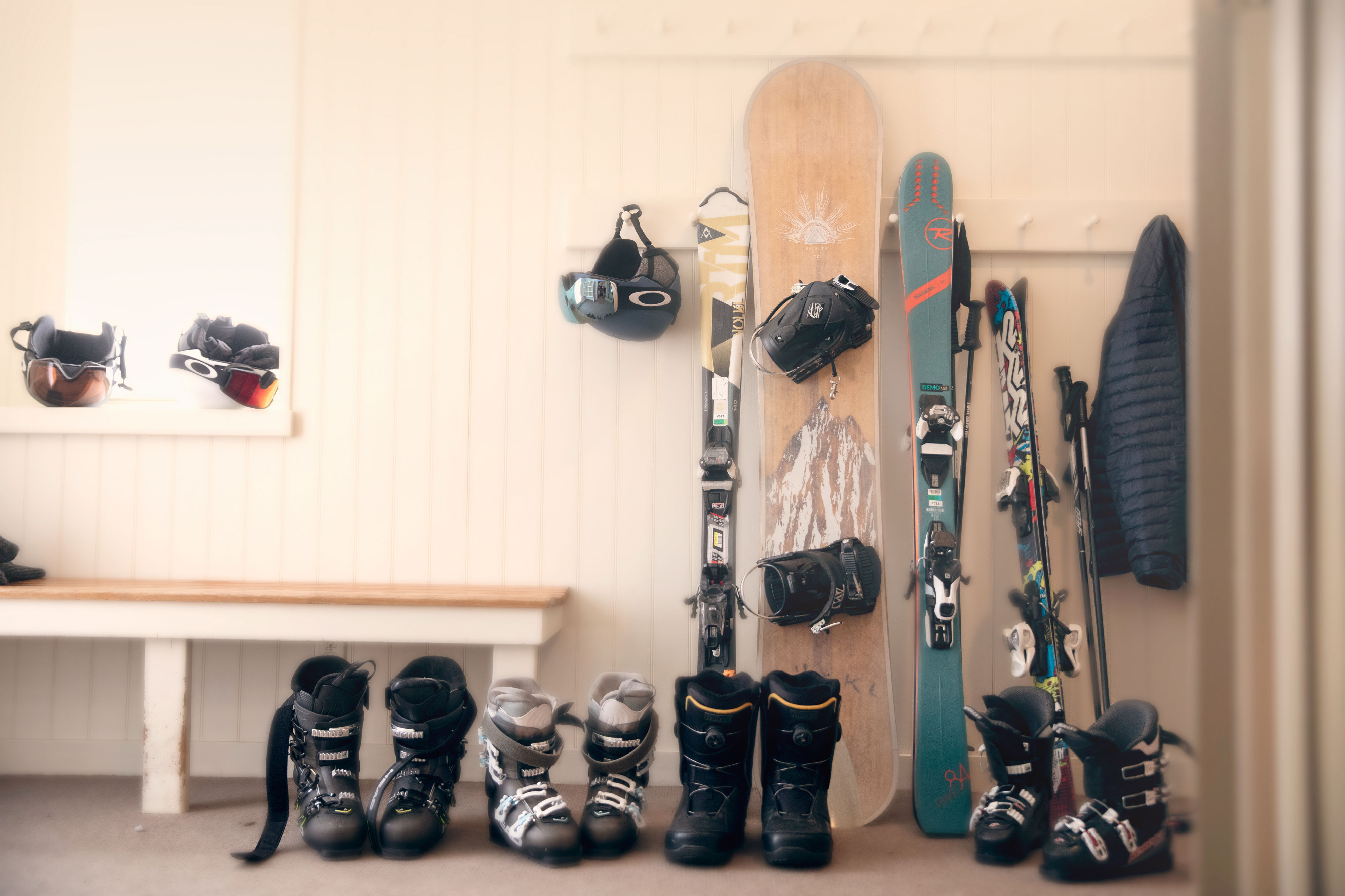 This may be your
first ski trip
or you may be a veteran who has skied in places such as
Vail in Colorado
and
Whistler-Blackcomb in British Columbia
or perhaps just a city-dweller who heads to
Hunter Mountain, N.Y.
on weekends. One thing remains the same regardless of your experience level: knowing what to wear skiing in Vermont will keep you on the slopes longer and more comfortably.
But if you are headed to Vermont's ski mountains, there are few things to consider when packing for a ski weekend. First,
Okemo's weather
can be cold. We're not talking about 10 to 20 degrees, or the dry cold that you can get on a day out West. It can be really, really cold, as in 10 or 20 degrees below zero. Granted, those days don't happen often, but they do happen. Second, it can also be wet. With the vagaries of a changing climate, the R word (there, "rain," we said it), can also happen.
And you should be prepared for pretty much everything in between.
That said, with a little
shopping
and packing savvy, you don't have to brink a trunk-load of gear. And the good news is, to dress like a local doesn't take much. Leave behind the fur, the little black dress, the tie and the sport coat. There's no place in the Ludlow area that requires these. Instead, what you wear for skiing and après in Vermont will usually be comfortable and casual.
Gearing up like a local means lots of warm layers you can take on or off, a jacket that you can wear from slopes to dinner, and a few key items. Some musts: a good pair of long underwear tights and a zip-neck top; a mid-layer down or fleece jacket and a looser fitting wind-proof and waterproof shell.
Socks for Skiing
Perhaps the most important item of clothing you can put on before heading out on the slopes is a pair of socks. They should be thin enough that they won't scrunch up in your boots or make them feel too tight, yet warm. Have a fresh pair for each day with a pair to change into after skiing.
Gloves or Mittens
Don't skimp on gloves and if you get cold fingers, opt for mittens. The first things to freeze after your toes? Your fingers. While you can use handwarmers, the best solution is to go for mittens or gloves that have a Gore-Tex or leather outer for protection and a down or synthetic fill. Make sure the fit is not too tight, especially around your wrists, so circulation doesn't get cut off. A cuff is also a great way to keep snow out.
Ski Helmets & Goggles
Perhaps the most important items of equipment every skier or rider should have are a good pair of goggles and a helmet that fits well. More than one in five ski injuries is a head injury and a helmet can go a long way toward protecting your brain from a fall, hitting a tree, or being hit by another skier or rider or a runaway ski. When shopping for a helmet, buy a pair of goggles as well and make sure the two work well together. Make sure the goggles have the right lenses for
East Coast skiing
– usually a gray or rose-colored lens that will help you see in low light.
Guide to Layering for Skiing
Layering is the trick to both staying warm and being prepared for any weather. There are three key layers for skiing:
A warm baselayer. Running tights, leggings or anything cotton can actually make you colder. Look instead for purpose-designed long underwear in wool or other insulating and wicking materials. A zip-neck long underwear top is ideal in that it can release heat when you need to.
The second layer should be an insulating jacket or wool sweater. While down-filled puffy jackets have been the classic choice, remember that when down gets wet (and if you sweat or don't have a completely waterproof external layer, it will), it bunches up. Look for a synthetic down fill as an alternative.
The outermost layer should be a waterproof, windproof shell that fits loosely over the rest of your apparel and waterproof and windproof pants. It's never a good idea to ski in jeans as they are cotton and won't keep you warm or dry.
Hats & Neckwarmers
Your head and neck are two key areas where your body loses heat. When it gets really cold, consider wearing a balaclava that fits under your helmet and that you can pull up over your face. While these pull-over-your-head and are not the most stylish of pieces, they do the trick. A thin hat under your helmet can also help and a wrap-around scarf or neckwarmer made from fleece, faux-fur or other warm material will make a big difference. Just be careful not to wear a scarf that can come loose while you are skiing or get caught in a chairlift.
Buy or Rent Ski Wear in Vermont
When deciding what to pack for a ski trip to Vermont, it's not necessary to buy items for just one trip. And even if you have everything you need to wear skiing in Vermont, bulky winter clothes can quickly fill up a checked bag.
Much like skis and snowboards, you can also rent ski apparel in Vermont. The Stowe-based company
Kit Lender
will send your clothing of choice to you at home or directly to your hotel with free shipping and returns. You can rent an entire name-brand outfit (ski jackets and pants, snow boots, goggles and gloves) for as little as $68 a day. The apparel comes in a variety of brands and fits for women, men and children.
The other option is shop while you are in Vermont. Ludlow has some great ski shops including
Tygart Mountain Sports
(which carries Patagonia, Obermeyer, SmartWool and others),
The Boot Pro
(has brands such as Ortovox, Helly Hansen and Alp N Rock) and
Northern Ski Works
(Arctryx, Cotopaxi and Dale of Norway) and the Vermont Country Store, in Rockingham, has its own branded items. Some of the best winter brands are made in the Green Mountain state and wearing an item such as a Darn Tough sock will help you look like a local.