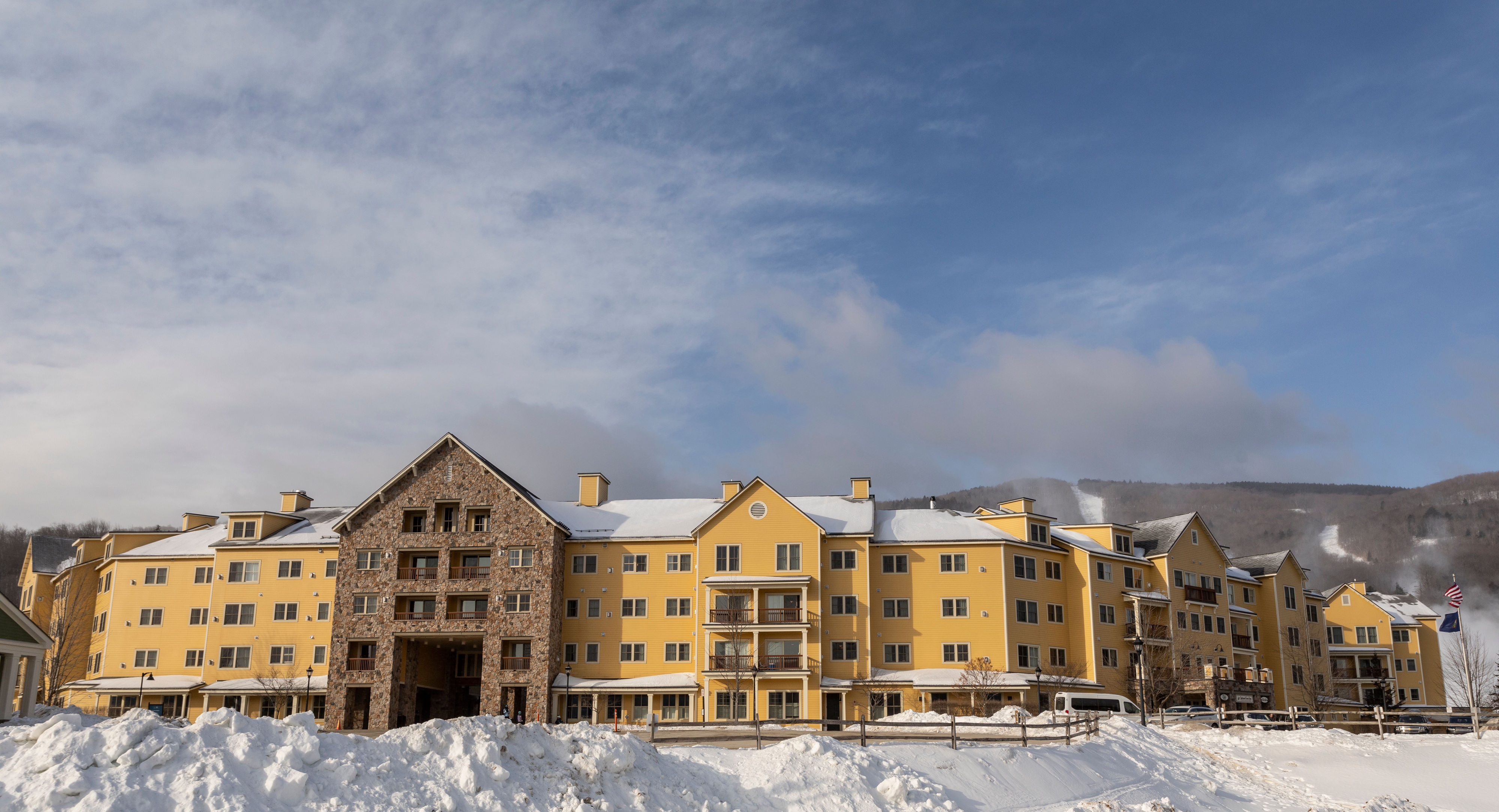 While Vermont is known for its summer weddings, weddings in Vermont during the winter season are cozy and romantic. With crackling fires, gorgeous snowy backdrops and all types of outdoor activities for guests to enjoy, there is no place better for a winter wedding than at or near one of Vermont's ski mountains.
Okemo Mountain Resort has many options for your ideal Vermont wedding site, with the added advantage of having plenty of slopeside accommodations and activities for guests with kids to do. But it's not the only place to exchange vows and celebrate with friends. You'll find many unique and beautiful places to married throughout the region. Here are 6 of the best places to get married in the winter near Okemo.
Jackson Gore Inn at Okemo Mountain Resort
Okemo Mountain Resort's Jackson Gore Inn offers rural charm, beautiful mountain views and can help orchestrate every aspect of your wedding. The Roundhouse at Jackson Gore is a beautiful ballroom-like indoor venue with access to the ski trails and chairlifts just a step outside. "It's a great destination for a family," says Talena Companion, treasurer of the Vermont Association of Weddings. "People are going to make a vacation out of it. It's just a great resort and place to be and things to do." The Roundhouse can accommodate anywhere from 25 to 275 guests, and they will work with the wedding party on all the details, from the menu to the dance floor. If you want to say your vows on the slopes and ski down to the reception, this is the perfect destination wedding location. Perhaps the perfect gift for guests? Arrange for lift tickets.
Castle Hill Resort & Spa
This romantic and historic "castle" or manor home is nestled on a hill in Cavendish, about four miles from Okemo. The perfect option for those seeking a castle wedding venue, the Castle Hill Resort & Spa offers a unique wedding experience at the 10-room intimate, elegant manor house with fireplaces in some bedrooms. The main building, modeled after manor homes in England's Cotswold region, has an Old-World charm and is on the National Register of Historic Places. Alan Miller Fletcher, who was governor of Vermont from 1912 until 1915, had the main building constructed with gneiss stone, which was quarried on-site. Many of the rooms have intricately carved California redwood paneling. Engineering and construction of the home was ahead of its time. It was the first house in the state to be wired for electricity and the floors have nickel-plated faucets to accommodate a hose in the event of a fire. A grand staircase (perfect for a bride's grand entrance) has been impeccably maintained and the wallpaper and Tiffany lighting are original. "It's stately, it's gorgeous," Companion says. "It has dark wood and high ceilings and is very reminiscent of classic elegance when people had sitting rooms and libraries. It's very vintage in that way." In addition to the main manor house, Castle Hill has 45 units in town homes around the property — including some with full kitchens. It also has a spa and fitness center.
Echo Lake Inn
This historical country inn in Plymouth is right near Echo Lake, about six miles from Okemo. The Victorian-style building dates back to the 1840s and was built as a summer hotel, but it is now winterized. It was frequented by historical figures like President Calvin Coolidge, Henry Ford and Thomas Edison. Today, the charming inn offers a traditional country wedding experience, and is considered a top choice in rustic wedding venues. The entire site is comfortable and beautiful. "It's quintessential Vermont — a smaller town where you get a more personal type of a service and it feels more intimate," Companion says. "A family could go and take over the property. If you go to the larger resorts, you're not going to be the only thing there at any given time." There are plenty of places for photographs, too, and the award-winning restaurant, a member of the Vermont Fresh Network, uses local fresh produce and meats.
The Grafton Inn
The Grafton Inn in Grafton, about 21 miles from Okemo, is one of southern Vermont's most picturesque wedding venues. Much of the classic Vermont small town and village have been preserved by The Windham Foundation, and many of the small homes are actually part of the Inn's 42 guest rooms and suites. The property has several indoor ceremony sites with gorgeous architecture for intimate gatherings. "I like working at relaxed venues like this where the families seem to enjoy themselves," says Marieanne Souza, the owner of Flawless Cosmetic Design, who has been a makeup artist for 25 years with experience in Ireland, Paris and California. She's been in Vermont since 2012. "(At the Grafton Inn), they have the whole little village to themselves," she says. Companion calls the Grafton Inn "quintessential Vermont" and "intimate."
Woodstock Inn and Resort
The Woodstock Inn and Resort, about 26 miles from Okemo, has consistently been named one of the best places to get married. Marsh-Billings-Rockefeller National Historical Park is nearby, and the inn is in the heart of historic Woodstock Village, surrounded by rolling hills. "It's grand, it's classic but it also has a real feel to it," Companion says. "It's more historic — a staple." Once the home of Laurence Rockefeller, the Woodstock Inn is one of Vermont's grander options and has cross-country ski trails just steps from the hotel. The inn can accommodate up to 200 guests and has several indoor spaces to choose from.
Riverside Farm
For an exclusive wedding venue, check out Riverside Farm in Pittsfield, about 30 miles from Okemo. The property (which was renovated by Spartan Race founder Joe De Sena) is an idealized version of a country estate with gorgeous barns that are fully weatherized and that make perfect year-round barn wedding venues. Riverside Farm sits among 700 acres of sprawling grounds and rolling meadows. The winter wonderland has cozy cabins, warm fireplaces and plenty of activities for guests. "It's just exquisite," Companion says. There are a few small outbuildings that can house the bride and groom and a few members of the wedding party but no real accommodations. Still, you can bring up to 200 guests to the reception.
Produced in partnership with Vermont Ski + Ride Magazine.