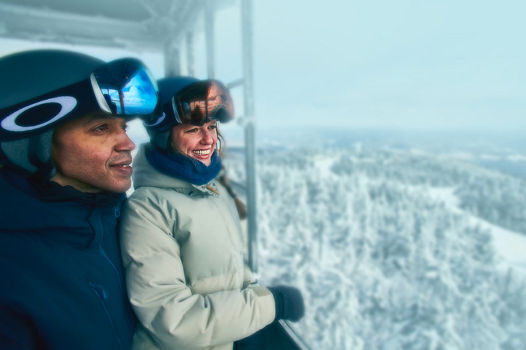 Vermont has some of the world's best snowmobiling adventures, with jaw-dropping scenery everywhere you look. Thanks to the work of the many chapter members of the Vermont Association of Snow Travelers (VAST), there are more than 5,000 miles of groomed trails in the snowmobile network, all of which are well-maintained by local clubs. The trails system has been around since 1967, and many trails open in mid-December, after hunting season and stay open until mid-April.
The Okemo Valley is no exception, snowmobiling is one of the best ways to see the state up close and a great way to explore the state after a day of skiing or riding. Many trails go through village centers, with opportune spots to break for lunch. Riders will notice that being in the winter, the leafless forests open huge vistas, giving a different experience of the landscape. If you are looking for a unique and fun family winter experience, snowmobiling tours in Okemo ride through the woods and on groomed ski trails to explore the areas around the resort.
For many snowmobile tours in Vermont, experienced guides are available to help riders feel confident on the trails. Riders should come dressed and prepared for winter conditions. Helmets are available at rental areas.
Four great snowmobile adventures in central and southern Vermont
Snowcountry Snowmobile
Snowcountry Snowmobile in Proctorsville, about four miles from Okemo, is one of the few operators that allows riders to rent their own snowmobiles for a half-day or full-day. There are also one-hour or two-hour guided tour options available. Owner Brian Villa says, "Some who rent snowmobiles without a guide choose to visit historic towns like Woodstock or Weston for lunch. Traveling to Rumuntos on the Long Trail in Bridgewater and through Calvin Coolidge State Forest in Plymouth are also popular options. You go all through the mountains."
Villa offers a quick course on snowmobile riding and then lets riders explore on their own or go with him or another guide. "If we go north, I go up to the scenic view that overlooks Okemo and then we go through Colby Pond and down south on the power lines," he says. Snowcountry also offers storage options for those with their own snowmobiles with monthly and yearly rates.
Snowmobile Vermont - Okemo
Snowmobile Vermont, located about 16 miles from Okemo, has two tour options: a shorter one goes on straight, wooded terrain, and the other two-hour tour traverses old ski trails. The longer tour explores the area around Plymouth and the Calvin Coolidge State Forest.
The two-hour guided backcountry tour through Calvin Coolidge State Forest encompasses "twisty, windy stuff through the woods" as well as straightaways and open meadows, says tour guide Max Rowe. You might come across old stone walls and the remnants of buildings that belonged to early settlers in Vermont. The tour on old ski trails in Killington is "more mountainous and up and down as opposed to out and away," he says.
Children of all ages are welcome, though the tour guide suggests children be at least 5 years old. Drivers have to be at least 16 years old to ride by themselves or 18 to take another person with them. Helmets with shields are available as well as a complete demonstration before the tour begins "We can accommodate large groups and we can accommodate small groups," Rowe says, explaining all tours are tailored to individuals. There are also breaks to check out the mountain views.
Snowmobile Vermont - Mount Snow
Jeff Wasielewski, who has been a tour guide in the Mount Snow area, about 45 minutes from Okemo, says for him, snowmobiling is about the "peace of being out in fresh snow in the middle of the woods, the smell of two-stroke and the wind in my face." Wasielewski can accommodate groups of any size and ability level. "In two hours, we can cover anywhere from five miles because people don't want to go far or up to 40 miles," Wasielewski says. "We can go anywhere we can get to and home in our time span." Some tours go to a reservoir, some go out in the woods and to the Stratton Mountain area. "You're going to be in a mostly wooded trail system, with roughly 35-foot wide trails, some 15 feet and going through the Green Mountain National Forest," Wasielewski says. There are occasionally open fields and a lake to traverse if it's frozen enough.
Wasielewski advises that inexperienced riders pick a time at the beginning of the day for an easier, smoother ride as the trails get bumpier later in the day. Some tours go as late as 8 p.m. "It changes the whole atmosphere going into darkness," Wasielewski says. The speed limit on the trails is 35 miles per hour, though the speed in the tour is dictated by ability levels. "It depends on how confident the people are," he says. Sometimes riders decide they don't want to drive at all and feel more comfortable riding with a tour guide. "In those circumstances, we coach them, and if they still don't want to, then they can ride with us," he says.
Stratton Adventures
For kids, Stratton Adventures has mini snowmobiles and easy trails for young riders to explore. Children as young as 6 and weighing up to 100 pounds can go on their own for a 10-to-25-minute tour with a tour guide. Stratton Adventures also has snowmobile tours for adults. Up to five snowmobiles (10 guests) are permitted per time slot. For those seeking a longer tour, Stratton Adventures' Vermont Mountain Adventures has two-hour backcountry tours located near Bromley, about 24 miles from Okemo, with stunning views of the mountains. There are places along the way to stop for photo opportunities with fun for the whole family.
Produced in partnership with Vermont Ski + Ride Magazine.