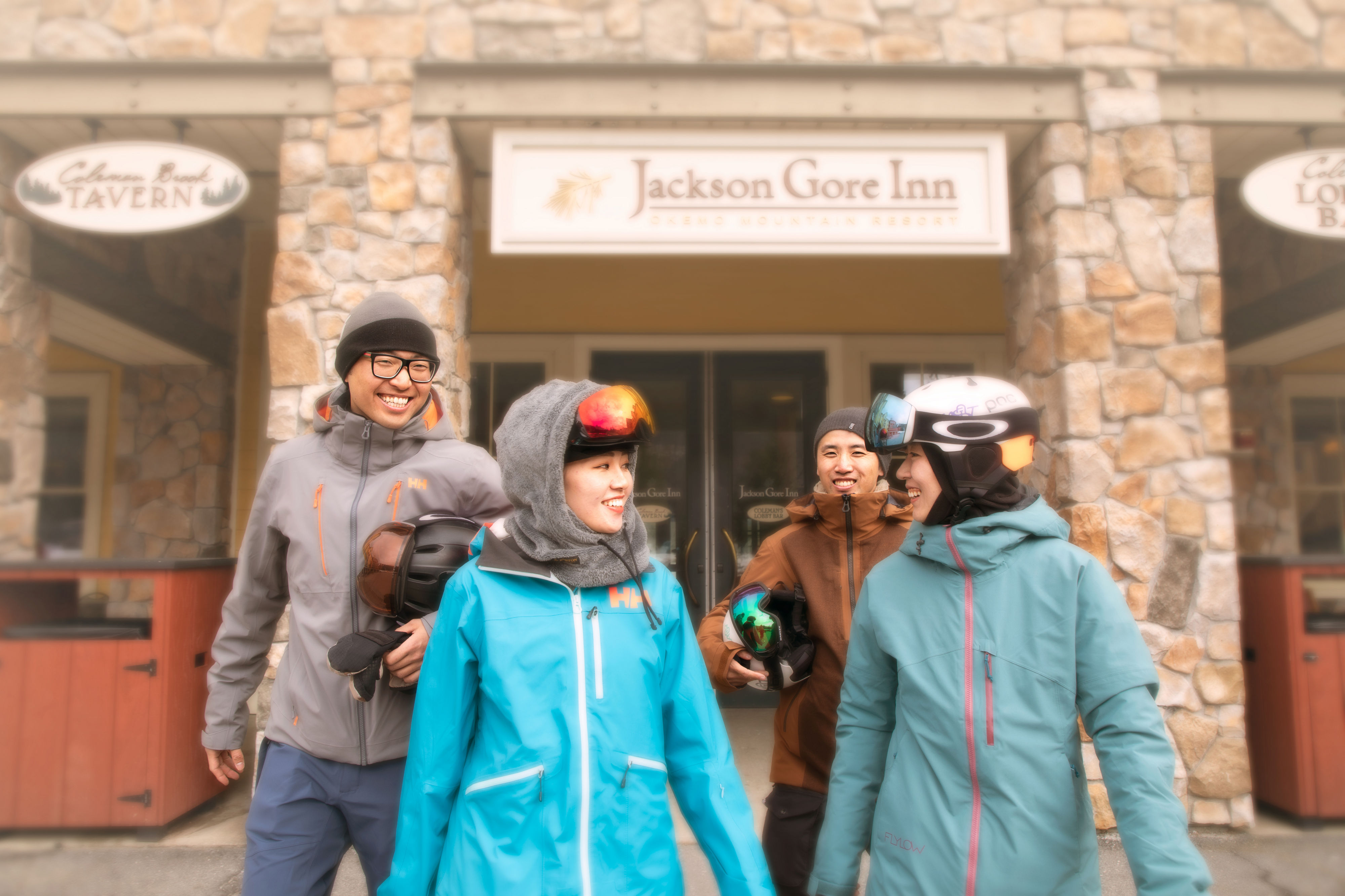 You don't even have to take off your ski boots or "change into something nicer" to start après-ski in Ludlow. The town is filled with fun places to kick back and take a break from the hill while warming up with hearty food and drinks. There are plenty of places for drinks and dining at Okemo itself, but for those looking to head into town, Ludlow has a hip après-ski vibe. Here are 9 of the best après-ski places to try in the Okemo area.


Best Place To Toast Your Ski Day: The Sitting Bull
This fun spot is located inside the Clock Tower base lodge at Okemo. It has a casual dining atmosphere where you can wear your ski boots and snow pants and get views of the slopes right out the windows.
The Sitting Bull
serves beer, drinks and casual fare, like nachos, burgers, salads and wings. There is live music on Saturdays from 3 to 5 p.m. with a selection of live music from local bands. "In the winter, it's a fast, casual type of menu," says Okemo Executive Sous Chef Mark Wiegand. "It's a very vibrant, fast-paced restaurant. Many people are in and out."
Best Slopeside Beers: Okemo Taphouse
The Taphouse
is a small restaurant with 75 seats, tucked away at Jackson Gore, above Coleman Brook Tavern. It has 10 New England beers on tap at all times, including popular microbrews like Fiddlehead Brewing Company from Shelburne, Conehead in Burlington and Maine Beer Company. The sandwich menu is eclectic with various flatbreads. It also has soups, salads, cheese and charcuterie. The vibe is "very casual," says Chef Wiegand. There are 10 televisions playing different games and modern rock music in the background. The small interior is cozy, especially for large parties. "If you have larger parties, it feels more intimate," Wiegand says.
Best Fireside Drinks : 43° North
At the Solitude Day Lodge of Okemo,
43° North
is a restaurant with a revolving menu that features food from around the world, with anything from a Banh Mi sandwich with smoked pork belly to moules frites. The restaurant is named because Okemo Mountain is located at 43 degrees north latitude. The casual atmosphere is geared toward the ski-in, ski-out crowd. Floor-to-ceiling windows overlook the slope with a sun deck. Sit outside and catch a view of both the Okemo slopes and Mount Ascutney in the distance. It also has a round, wood burning fireplace in the middle of the dining room with high top tables. There is a Starbucks kiosk in the building as well for those looking to warm up quickly.
Coziest Summit Pit Stop: Robin's Roost
You don't need to have your last run be the start of 'après.' Before you head down for the day, linger over a late lunch or snacks at the
Robin's Roost
, in the basement of the Summit Lodge at Okemo, a casual restaurant with a southern-inspired menu. Popular dishes include fried green tomatoes and biscuit sandwiches. The interior has old barn board on the walls, a fireplace in the corner, and plenty of high top tables with a rustic Vermont vibe. Rock music from the 1980s, 1990s and 2000s plays in the background. Robin's Roost is a quick in-and-out option for those looking to warm up and get right back out on the slopes.
Best Locals' Hangout: Tom's Loft Tavern
Tom's Loft Tavern
describes itself as the "home of warm beer" and "lousy food" with a self-described "grumpy owner" named Tom Koch. Koch is known for his humor and amusing storytelling abilities. It's located in a charming red clapboard building on the Mountain Road at the base of Okemo and is a favorite hang-out place for locals. It evokes everything about après-ski entertainment. There are 25 Vermont beers on tap, great appetizers such as Nachos Supreme, nachos topped with both chicken and pulled pork, and satisfying comfort food like cheesy French onion soup to fuel up after a long day on the hill. The "Everything Wings" is a favorite and the bar is a friendly place to meet new people and enjoy the company of friends and family. Nothing says you're a local like a "Tom's Loft Tavern" knit hat (with a snowy mountain scene with chairlift.)
Best Irish Sports Pub: The Killarney
The Killarney
is located right at the base of Okemo Mountain off Route 103 and owned by Mark Verespy and his family. The authentic Irish Pub has quality food and drinks in a relaxed setting with friendly service. There are 15 beers on draft and over 30 beers in bottles along with a full bar. If beer isn't for you, there's a large selection of Scotch and Irish whiskey. Watch the game on one of the HDTV's with surround sound. Killarney uses local products and is known for its award-winning wings and pot pie. It also has authentic Irish dishes, like bangers and mash and corned beef. An après-ski favorite ia the Killarney's Pots of Gold: potato skins filled with Vermont cheddar and sour cream served with crisp bacon and scallions
Best Place for Wine & Cheese: Stemwinder
If wine and cheese is more your idea of après-ski, then
Stemwinder
is for you. Located in the back of the Wine and Cheese Depot in Ludlow, Stemwinder has a delicious and inventive farm-to-table menu with an expansive wine selection. The ever-changing dishes are always prepared from scratch with the freshest ingredients available. Located in a converted 1840 Victorian home with an attached barn, the interior has a rustic feel with old wood on the walls and a soapstone bar top. The cozy restaurant sits up to 48 people, giving an intimate experience. Stemwinder also hosts wine dinners on a regular basis where winemaker's visit and answer questions about their wine while chef and owner Wendy Neal prepares dishes to pair.
Hippest Cocktail Lounge: Main + Mountain
Main + Mountain
, off Route 103, in Ludlow is known for its craft cocktails. The old Victorian building has been converted to a hip 13-room hotel and barn. It's completely modern on the inside but maintains its historic exterior. There is indoor seating at a bar and lounge and a large selection of boardgames for entertainment. Year-round outdoor seating around a fire pit with electric outdoor heaters and holiday lights also makes for a popular and intimate hangout space. There is an international wine selection, CBD-infused drinks, mocktails and a large selection of liquor. Snacks, like potato chips and salsa, olives, grilled cheese and hot dogs, are also served. Seating is limited and the bar is first come, first-served.
Best Local Brewpub: Outer Limits Brewing
Outer Limits Brewing
in Cavendish, about 5 miles from Okemo, is one of the Aprés bars with a wide selection of house-brewed lagers, wheat beers, brown or dark beers, hoppy beers and nitro beers. The menu is simple, featuring wood fired pizza in an historic and recently renovated two-story brick building in Proctorsville Village. The Vermonster pizza is a popular choice, served with Vermont cheddar and a drizzle of Vermont maple syrup. Check out live music on Saturdays with local bands.
Produced in partnership with Vermont Ski + Ride Magazine.