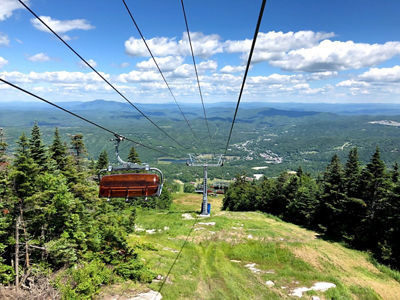 The Green Mountains may not appear to be the biggest, baddest of mountains, but they are home to some of the country's top mountaineering schools, the longest backcountry ski trail in America and the first sanctioned glades ever to go in on National Forest land. In other words, if you want to explore the backcountry, learn survival or mountaineering skills, or just enjoy getting off the beaten track, you've come to the right place. There are tons of Vermont climbing and mountaineering opportunities around Okemo Resort.
Vermont Climbing and Mountaineering
Just over the ridgeline from Stowe Mountain Resort, the U.S. Army has its premiere mountaineering school, a place where soldiers come from around the country to train. Steve Lulek helped found the U.S. Army Mountain Warfare School in Jericho. A veteran with 22 years in the Army and National Guard, Lulek has helped teach scores of military personnel how to climb and navigate mountain terrain in all seasons and all weather.
Now, Lulek operates the Vermont Adventure Tours out of Rutland, about 40 minutes from Okemo, as well as an indoor climbing gym. Outside of the Rutland-based gym, Vermont Adventure Tours "classroom" is the spine of the central Green Mountains and Lulek and his team guide guests to places they might not find on their own.
"We offer courses and tours in ice climbing, mountaineering, winter camping and outdoor survival," says Lulek, who likes to host small tours and gear the day toward the customers' levels of experience. "Adventure means something different to everyone," he notes. "I really like to spend time talking with people and understanding what they are comfortable with. For some, just a beautiful, guided snowshoe hike in the woods is great and we love to take people to places they might not discover on their own."
A typical winter mountaineering course that Lulek offers will involve meeting with a small group and going over what's needed for a day in the mountains. "We teach people to be comfortable carrying a heavy pack. We'll hike up one pitch – with snowshoes if it's winter – and then practice some ice climbing." After a second pitch, Lulek might teach participants to belay off a cliff.
Vermont Adventure Tours provides all the gear necessary for climbing and mountaineering in Vermont – from snowshoes to ice axes, ropes and helmets. The organization's headquarters in Rutland is also home to what Lulek calls "an old-school climbing gym." The gym has 26-foot-high ceilings and has close to 30 ropes set up, as well as bouldering stations. Lulek's gym also hosts local schools for regular interscholastic climbing competitions. "We teach kids, adults, anyone who wants to learn to climb," says Lulek.
Winter Survival Courses in Vermont
Vermont Adventure Tours also teaches a number of winter survival courses. "Our most basic courses will involve a snowshoe tour and we spend some time educating people about hypothermia and how to stay safe outdoors in cold weather." More advanced courses, including a primitive skills course, teach folks how to build a quinzhee hut in the snow, start a fire from scratch and survive overnight in the wild. "One of our course leaders, Josh Hardt, is probably one of the most knowledgeable winter survival skills leaders out there," says Lulek. Hardt's father was a Green Beret who raised Josh and his brother Luke to sleep outdoors in tents year-round. Lulek is also a paramedic who teaches wilderness first aid and is an instructor at the renowned SOLO Wilderness First Aid courses in New Hampshire, which offer certification as a Wilderness First Responder or Wilderness EMT.
Vermont Caving
Central Vermont is home to a surprising number of caves. Hidden in the mountains, these range from small caverns relatively near the surface, to intricate underground tunnels. There are even some ice caves, where the ice flows inside the cave remain frozen until August. Vermont Adventure Tours offers trips to the ice caves as well as others in the region from April to November.
Another guiding operation, Appalachian Trail Adventures, is run by John Keough out of Killington. Keough is credited with discovering the largest cave in New England in 2000, the Aelous cave near Manchester, which is also the largest bat hibernaculum in the Northeast and protected. ATA offers trips to four caves in the greater Killington area, from April up through fall and sometimes until December, depending on conditions. One pair of caves is formed by water that eroded the limestone, a so-called "solutional" cave. Another two are talus caves, formed by large rocks and boulders at the base of cliffs. ATA offers caving trips that last from one hour to a full-day and provides all the gear – headlamps, helmets and more – needed to explore these places.
Backcountry Skiing & Touring in Vermont
Backcountry skiing has been growing in popularity and Vermont has been a leader in offering places to practice this emerging sport. Backcountry skiing or touring requires special gear – a pair of skis mounted with bindings that allow you to lift your heel, backcountry boots that offer greater flex at the ankles and a pair of climbing 'skins' which are stuck to the base of the ski while ascending, allowing the ski to glide uphill without sliding back.
Vermont is home to the longest backcountry ski trail in the country: the Catamount Trail starts at the Massachusetts border and winds along the spine of the Green Mountains 300 miles nearly to Canada. The trail was conceived in 1984 and all the sections linked in 2008. Since then, the Catamount Trail Association has worked with various groups to create backcountry ski zones along the way – places where you can skin up and ski down through gladed woods. The organization also hosts a number of guided single-day and multi-day backcountry ski tours in Vermont.
The Brandon Gap area (about an hour north of Okemo) is the first sanctioned gladed section on National Forest land and has multiple zones where you can skin up and ski down through the trees. There's also a backcountry hut, Chittenden Brook Cabin, which is part of a growing series of huts in the Vermont Huts Association system.
Another area that's dedicated to backcountry skiing is the upper section of Mount Ascutney, about a thirty-minute drive from Okemo in Brownsville. The mountain was formerly an alpine ski area but when the ski area closed, lifts were removed. The upper half of the mountain remains an area just for backcountry skiing while the lower half is served by two surface lifts.
One of the state's premiere shops for backcountry touring gear and apparel is located right in Ludlow. The Boot Pro can help get you outfitted with skis, skins, boots and all the gear you need to explore. The shop also sometimes hosts guided tours.
Produced in partnership with Vermont Ski + Ride Magazine.