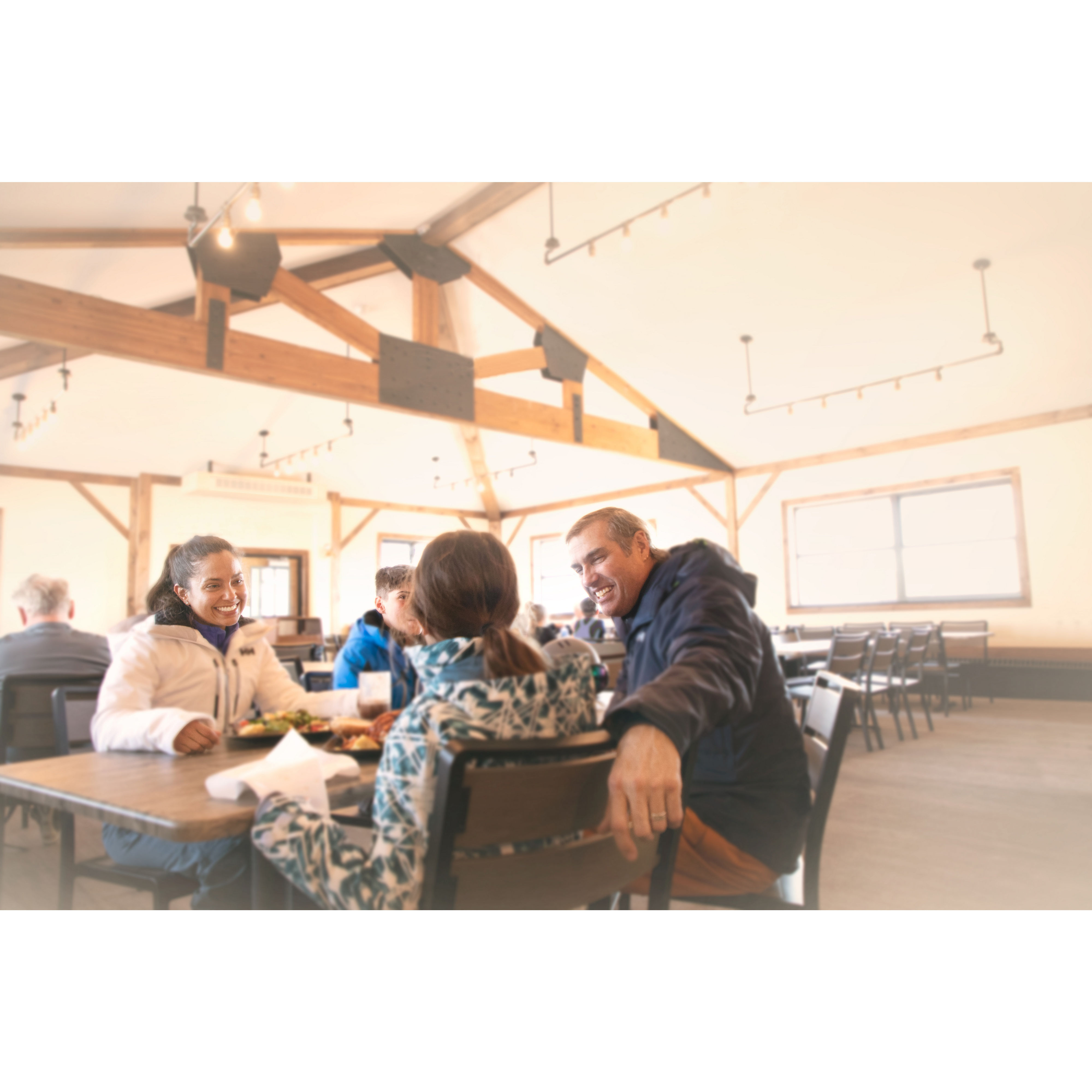 One area where Okemo trumps many other Vermont ski mountains is lodging. The resort is home to two bases and has 8 different properties – nearly all ski-in, ski-out. If you want to, you can check in on a Friday and say goodbye to your car until you check out on Sunday—an ideal solution if you have kids. Plus, there are plenty of restaurants and things to do at the resort's own base areas so there's no need to leave.
There is literally something for everyone here, from a luxury suite at the Jackson Gore Inn to an affordable condo mid-mountain at Solitude Village. All can be booked through Okemo's central reservation system and Epic Pass holders can save up to 20%.
If you choose to stay off the mountain, there's a breadth of options that range from the classic B&Bs to the hip boutique motel, Main + Mountain to an historic "castle."
Best Overall, Best Slopeside & Best For Kids: Jackson Gore

You drove three hours or more to come to Okemo to ski, right, not to spend more time in the car? If you want to maximize your ski day, the Jackson Gore Inn, Adams House and Bixby have, between them, 200 units, many facing the slopes and all of them ski-in, ski-out at the Jackson Gore base. The newest development at Okemo, Jackson Gore's offerings range from a standard hotel room at the Jackson Gore Inn, to a residential condo at Bixby House, where a recent two-bedroom was listed for sale for over $1,000,000. From all of them it's easy to pop into Jackson Gore's restaurants, say for Wagyu burger at Coleman Brook Tavern, to strap on some skates at The Ice House or, for the kids, head to the Timber Ripper Coaster or tubing areas. There is also a fitness center, indoor/outdoor pools and a hot tub.

Best Budget Slopeside: Slopeside Village & Main Lodge

If you're jonesing to get first tracks but also trying to save some pennies, consider a condo at the mid-mountain Slopeside Village. Some of the 20 units are older but there are also some stunning new ones and all have access to indoor and outdoor pools. You can drive to Solitude Village and then either ski down to Jackson Gore and take the Morning Star triple up or hop on the Solitude Express quad. The slopeside Epic restaurant is right there for lunch. More bargains can also be found at the Main Lodge at Okemo's Clock Tower base area. Here too, condos have access to indoor/outdoor pools, fitness centers and the Base68 café.

Hippest: Main + Mountain

When Justin Hyjek and Eliza Greene opened Homestyle, their cute restaurant/hotel on Main Street in Ludlow, they had no idea it would become a hot property. Now Homestyle is a popular restaurant and all lodging has move to a completely renovated a motel across the street at the boutique Main + Mountain. Just a mile from Okemo, Main + Mountain's 13 rooms are done in a mix of natural woods and fabrics with a mid-century-modern flair. The bar is a gathering place for everyone in town, with award-winning cocktails and a firepit outside. You can even pre-order cocktails, beer or wine before checking in and they will magically appear in the in-room fridge.

Best Classic B&B: The Governor's Inn

Just a mile from Okemo's slopes, The Governor's Inn is a classic Victorian bed-and-breakfast. It was built in 1890 by William Wallace Stickney for his wife Lizzie and served as their home while he was governor. It stayed in the family until 1977, when it became a B&B. Room rates start at $185 and many have beautiful patterned wallpapers and antiques and come with a full breakfast. And yes, you can stay in what was formerly the Governor's bedroom.

Most Luxurious: The Castle Hill Resort & Spa

Gov. Allen Fletcher, who served in office from 1912-1915, did well in the stock market and set out to build something grand for himself. In Proctorsville, less than 5 miles from Okemo, he built a magnificent manor home, was built using locally quarried gneiss stone and California redwood. It was the first in Vermont to be fully wired for electricity and equipped with an elevator and Fletcher hired the great landscape architect, Fredrick Law Olmstead Jr. (known for designing New York's Central Park), to design the grounds of his new mansion. Today, The Castle's manor house looks much as it might have in its heyday with intricate paneling and tasteful antiques and is a member of Historic Hotels. Many of the ten rooms in the original home have four-poster or canopy beds and decorative fireplaces. A small resort with a total of 55 units as well as a spa has built up around the main home. There are also town homes with full kitchens and working fireplaces.

Best Classic Inn: Echo Lake Inn

Built as an inn in 1799 for just $500 at the time, the white-clapboard Echo Lake Inn is purportedly one of only six Vermont inns built in that era that are still operating as an inn. Located off Route 100, near the shores of Echo Lake, the Inn once housed such luminaries as Thomas Edison, Henry Ford and Andrew Carnegie –many who came to visit President Calvin Coolidge, who was born just up Route 100 in Plymouth Notch. Coolidge maintained a summer "White House" there during his presidency in 1924 . Today, the inn has over two dozen units. Some are classic hotel rooms with vintage wallpaper and quilt-covered beds. The rooms come with hearty breakfasts. There are also luxury units with in-room fireplaces and jacuzzi tubs and condos with up to three bedrooms and full kitchens. Echo Lake is about 6 miles to the slopes.




Produced in partnership with Vermont Ski + Ride Magazine.