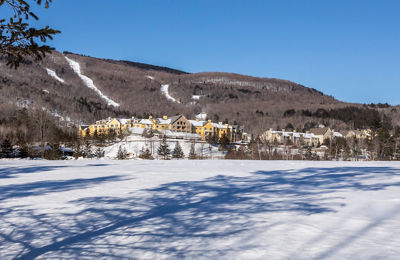 The bike scene has exploded in Vermont. In summer, there are hundreds of trails around the state. Come winter, on a fat bike you can still get out on the trails, get in a great workout outdoors and have just as much fun. Explore the fat biking trails around Okemo and find adventure year round.
What to know about Fat Biking Vs Mountain Biking
Like mountain bikes, fatbikes have big, knobby tires, but fatbike tires are even wider typically at least 3.5" wide. They are meant to be ridden across varying types of trails, from snow to sand, with enough traction to pedal over groomed snow without sinking in. Some riders deflate the tires slightly to absorb different levels of snow hardness and obstacles.
There's an etiquette to fatbiking too that helps ensure the trails are not ruined and rutted. The Vermont Mountain Bike Association maintains a page devoted to the do's and don'ts of fatbiking as well as a list of trails that are groomed for winter riding and other resources.
Where to Find Vermont's Fat Biking Trails
Around Vermont, more and more trail networks are actually grooming their trails for fatbiking. The Vermont Department of Forests, Parks, and Recreation along with partners at the Vermont Mountain Bike Association and Vermont Association of Snow Travelers allow fatbike riders on many established snowmobile and recreational trails in state forests, giving folks a chance to explore Vermont's most pristine backcountry.
Some recreational Nordic ski areas also allow fatbikers to ride the same trails as cross country skiers and snowshoers. If you want to rent fatbikes, try First Stop Board Barn in Killington, the Woodstock Inn and Resort or head to Grafton Trails and Outdoor Center. All are about 20 miles from Okemo.
Bryon Lockhart of First Stop says most of the people who rent fatbikes are local cyclists looking to stay fit in the off-season and families looking for a winter activity. "It's kind of a niche thing," said Lockhart, an avid fatbike rider. "But it's something everyone can enjoy. I just love being out in the snow and enjoying the Vermont landscape year-round," Lockhart says. "In the winter, it's especially nice to be in the woods in leafless trees, without the canopy. I love just getting all the fresh air I can year-round. The ridge lines are spectacular when it comes to winter riding," he says. "In the summer and fall, it's pretty dark and enclosed. In the winter, it's brilliantly bright with long-distance views."
Here are Five Places to Go Fat Biking Near Ludlow
Grafton Trails and Outdoor Center
About 22 miles from Okemo, this 2,000-acre recreational area in the heart of Grafton, the home of award-winning Grafton Village Cheese, has beautiful multi-use trails. The quaint village is full of shops and galleries and the main street is lined with restored historic homes. Fatbikes are allowed on groomed trails — some of which are shared with cross-country skiers and snowshoers. The trails cover mostly flat terrain, with some gentle ups and downs in the woods. If Mother Nature isn't cooperating, Grafton Ponds also has snowmaking capabilities on about five kilometers of trails. Fatbikes are available for rent.
Woodstock Nordic Center
Woodstock has some of the best fatbiking terrain in the area. Fatbike rentals are available through the Woodstock Nordic Center for adults, teens and children as young as 10. Fatbikers can use the groomed trails after the snow has been packed down. The trails cross the Woodstock Golf Course, just behind the Woodstock Inn, and follow the Ottauquechee River, which flows through the town. Most of the terrain is perfect for beginners with almost no elevation in some areas.
From the golf course, groomed trails extend to Mount Peg with stunning vistas that overlook Woodstock Village. "Without the leaves on the trees, there's a very different view," says Shay Berry, the resort's fatbike guide. "I think the trail system does a great job weaving in between easy to intermediate flow." There are about 20 kilometers of packed trails on Mount Peg. More adventurous riders can go to the Aqueduct Trails in Woodstock for a backcountry experience. "It's an extensive mountain bike trail system," Berry says. "There are a lot of flowing trails that can occupy you for miles." The trails are well-used and often packed down by snowshoers.
There are group rides every Wednesday (weather permitting), with post-ride beer and snacks. The resort also has one-hour guided tours for fatbikers to learn and hone their skills. All fatbike rentals include a helmet. Woodstock is about 25 miles from Okemo.
Viking Nordic Center
Viking Nordic Center in Londonderry, 25 miles from Okemo, is one of the oldest cross country ski areas in the United States, founded back in 1970. It now offers about 30 kilometers of groomed trails for fatbiking. The trails are well-maintained and beginner friendly. Snowmaking is available when the weather isn't ideal. There are no bike rentals, so riders will need to bring their own.
Coolidge State Forest
The Coolidge State Forest in Plymouth, about 15 miles from Okemo, spans 21,500 acres and is the most expansive state-owned land in central Vermont. The forest is named for President Calvin Coolidge, the 30th president of the United States. He was born nearby in the village of Plymouth Notch, and his family homes and "1924 Summer White House" are preserved as an historic site. The state forest was established in 1925 by forester Perry Merrill and in the 1930s the Civilian Conservation Corps built many of the trails that still exist today.
While much of the site is closed in the winter, many of the trails throughout the forest are groomed for snowmobiling, making the perfect surface for fatbikers. The trails have a rustic, authentic Vermont character to them with sweeping views of the Black River Valley and the Green Mountains. Some of the land in the forest was once cleared for pasture and today open meadows are framed with stone walls and you can see the remnants of old stone foundations that date back hundreds of years.
Sherburne Trails
Sherburne Trails in Killington, about 25 miles from Okemo, are open year-round. The trails are not groomed in the winter, but they are well traveled and packed down by snowshoers. The extensive trail system has a variety of loop trails, with gentle ups and downs designed for all skill levels. The trails are managed by the U.S. Forest Service in partnership with local clubs and volunteers.
Produced in partnership with Vermont Ski + Ride Magazine.