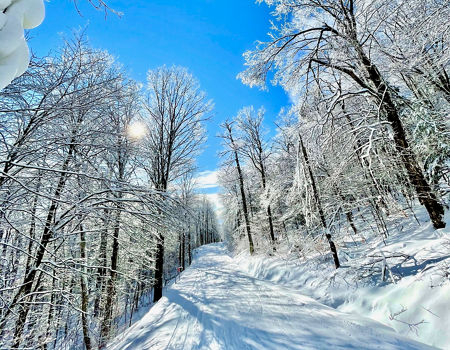 Cross country skiing is a Vermont tradition. In 1968, the Trapp Family Lodge in Stowe became the first cross country ski center in North America. Today, there are more than 30 cross country centers throughout Vermont with trails for all ages and ability levels in the Okemo area.
During the Covid-19 pandemic, more people than ever picked up cross country skiing as a way to get outdoors, get some exercise and stay socially distanced. In Vermont alone, the sport saw a 5.2% increase in visits to cross country centers over the pre-pandemic numbers.
While for some, the image of cross-country skiing may be of Jesse Diggins (a Vermont resident) lunging across the finish line for an Olympic medal, for many, the sport is more about just getting outdoors and enjoying parts of Vermont that are off the beaten track. Located in the heart of Vermont's Green Mountains, Okemo cross country skiing provides an opportunity to explore the regions scenic beauty.
The groomed trails traverse rivers, meadows and gorgeous woods with views of the Green Mountains, offering the chance to truly escape. Some areas have snowmaking that can extend the winter season. If you don't have your own equipment, there are many opportunities for rentals and lessons as well as guided tours to see some exquisite Vermont landscape up close, making cross country skiing accessible to beginners who want to try out the sport.
The new cross-country gear has become more and more user-friendly and many of the waxless skis let you go uphill easily. However, it's worth it to talk with a pro before you head out and make a purchase and to try a number of skis before you buy. Tygart Mountain Sports is one of the best places for cross country ski rentals in the Ludlow area. The Boot Pro, right at the base of the Okemo access road, is also one of the state's best sources for backcountry skis and gear. The shop also hosts guided backcountry and uphill tours.
Get Off the Beaten Path At These Nordic Areas
The Fox Run Nordic Center
The 18-hole Fox Run Golf Club, about one mile from the entrance of Okemo Mountain, transforms into a winter play area when the snow starts to accumulate. There are seven miles of groomed, well-marked Nordic trails that wind over snow-covered meadows and rolling hills along the Black River, with views of Okemo Mountain everywhere you look. This is a Nordic skier's paradise with trails that are easy enough for first timers and adventurous enough for advanced skiers. Head to the Nordic Center, fashioned after an old ski barn, for rentals and lessons, and to pick up day passes. Skate ski rentals are also available.
Grafton Trails & Outdoor Center
This 2,000-acre recreational area in historic Grafton Village, about 16 miles from Okemo, is a local's favorite. It has both groomed trails and backcountry routes that take skiers up and down gentle hills in the woods with amazing scenery. There is snowmaking on about three miles of the trails. Nordic skis are available for rent for either a full day or half day. Lessons are also available.
Woodstock Nordic Center
The Woodstock Nordic Center, about 20 miles from Okemo, offers 45 kilometers of groomed trails on two systems that give both a backcountry and groomed cross-country skiing experience. Well-groomed, easier trails cross the acclaimed 18-hole golf course, right behind the Woodstock Inn and Resort. You can continue on the trails to climb to the summit of Mount Peg, with views of the entire historic village below. There are 20 kilometers of groomed trails on nearby Mt. Tom, taking you on old carriage roads through the Marsh-Billings-Rockefeller National Historical Park, the state's only national park. While you're here, go shopping or out to eat in this charming New England town. Rentals, lessons and trail passes are available.
Viking Nordic Center
This quintessential Vermont ski center in Londonderry, 18 miles from Okemo, has some of the oldest cross country ski trails in the state. Fifty years ago, founders Stanton and Lee Allaben, two of the earliest certified Nordic instructors, helped establish a 40-kilometer trail network in the Green Mountain National Forest. Today, Viking is still focused on family fun. The 16 miles of groomed trails take skiers along the West River and near a beaver pond. There's a warming hut that serves soups, sandwiches and treats like hot chocolate and cookies. A cookie hunt out on the trails lets kids 12 and under search for wooden snowflakes and Viking helmets with the reward of a free cookie. It works to keeps them entertained and motivated to be outside. Night skiing is available on select evenings on 1.8 miles of trails, which are lit by historic gas lanterns that glisten against the snow. There are also childcare options available if the adults want to explore the trails on their own. Viking Nordic Center offers rentals for both skate skiing and classic skiing. You'll need to purchase a day pass.
Mountain Top Inn & Resort
This resort in Chittenden is about 35 miles from Okemo, and it's worth the drive. The property includes 700 acres and offers just about every type of winter activity you can imagine. There are 80 kilometers of trails in total, with 40 kilometers of trails groomed for both classic cross-country skiing and skate skiing. Snowmaking is available on a 2-kilometer loop. If it's cold, take a break at a warming shelter with a snack bar and sit near a crackling fire. The resort sits high on the western slopes of the Green Mountains and has breathtaking views. Lessons and rentals are available.
The Quechee Club
The Quechee Club, about 33 miles from Okemo, has about 10 miles of pristine cross country ski trails that traverse a tranquil wooded Vermont landscape near the Ottauquechee River. While here, check out the Quechee Gorge, called "Vermont's little Grand Canyon," which is consistently named one of the top places to visit in Vermont. The Gorge has views of the Ottauquechee River.
Produced in partnership with Vermont Ski + Ride Magazine.