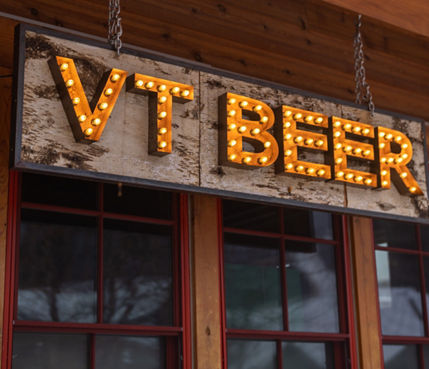 Throughout the state, there are about 11.5 breweries per 100,000 adults of drinking age, according to data from the Brewers Association, and the town of Ludow has become a popular destination for some of the best local breweries. Beer lovers visiting the area don't have to go far to find one of the localcraft breweries, each with a unique style that reflect the tastes of the region.
A little known fact for craft beer lovers is that The Vermont Brewers Association has dedicated brewery trails and awards those who visit breweries along the trails with gift certificates to area establishments. One trail, the South Central Trail includes three local breweries near Ludlow, Long Trail Brewing in Bridgewater, Vermont Beer Makers in Springfield and Outer Limits Brewing in Proctorsville. These made it on our list for the 6 of the best breweries to visit in the Ludlow area.
Best Breweries in Ludlow, Vermont
Outer Limits Brewing
This family-owned 10 beer-barrel brewery and taproom is one of about 200 breweries in the world that uses the Peter Austin Brick Kettle System. Peter Austin was responsible for the concept of microbreweries, and he founded the popular Ringwood Brewery in Hampshire, England, in 1978. Alan Pugsley, of Pugsley's Brewing Projects International, was Austin's right hand and is credited with the New England beer scene. Pugsley helped Outer Limits Brewing get started. The beer menu at Outer Limits, with a "little something for everyone," focuses on dark and mild English and German styles. "It's that really old-style beer that you don't see too often anymore," says Dillon Urlich, a manager at Outer Limits. Brewing happens downstairs in a restored 1860s mill in Proctorsville Village, about seven miles from Okemo, and uses open-air and closed fermentation. The taproom seats 120 people with a menu that focuses on wood-fired pizza. There is live music featuring local bands every Saturday.
Vermont Beer Makers
This 20-barrel brewhouse in Springfield is about 17 miles from Okemo. Founded in 1996, it is one of the state's 10 original craft breweries. Formerly named Trout River Brewing Company, Vermont Beer Makers has recently started focusing more on beer craft innovation. From citrus-flavored beers to bitter flavors, Vermont Beer Makers is setting out to make its own unique and experimental beers, while still embracing the traditional brewing styles. Many of their beers are inspired by the area. Ascutney, for example, is a smooth, creamy beer that has taste notes of tropical fruits and peaches. Ascutney takes its name from Ascutney Mountain, which was recently revived as a small ski area.
Long Trail Brewing
Long Trail Brewing in Bridgewater, about 18 miles from Okemo, is inspired by the 273-mile hiking trail that traverses Vermont. Long Trail Brewing Company started humbly in 1989 in the basement of the old Bridgewater Woolen Mill. It is now owned by Harpoon Brewery and is one of the area's most popular destinations. The brewery and tap room sit riverside on Route 4. Long Trail is known for its high-quality fine ales. The company is also committed to sustainability. Discarded grains and hops are fed to local dairy cows. Steam released during the brewing process is condensed into hot water and the thermal energy is used to heat water for the next brewing cycle, saving up to 2,000 gallons of propane a month. The menu at the tap room features burgers, wings and a variety of starters.
Harpoon Brewery
Harpoon Brewery in Windsor, 30 miles from Okemo, is a Vermont staple. The brewery started in 1986 and all the beer is made by employee-owners who are passionate about brewing with top-notch ingredients. General manager Randy Summarsell describes it as "approachable, fresh and delicious." There are 20 draft lines with "something for everyone." The Catamount IPA, a New England-style IPA with hazy, citrus notes, is one of the most popular. "There's just a perfect amount of hop bitterness," Summarsell says. The brewery seats up to 100 people. There is a fireplace in the winter with outdoor warming huts for people who don't want to stay inside. A glass wall between the restaurant and the production area lets everyone see the beer production process at any time. Snowmobiles can also access the brewery through the VAST trail network.
Scotch Hill Brewing
Scotch Hill Brewing company, founded in August 2021, is a small brewery located in the heart of Fair Haven, about 40 miles from Okemo. On tap you will usually find at least six diverse beers that change with the season and the mood of the owners. The taproom is in a building that dates back to the 1890s. The tin ceilings and porcelain floors are original and photos of days gone by hang on the walls. "We try to keep it classic — something that's more of a vintage atmosphere," says Jon Meigs, the owner and brewer. Meigs and his wife Rachel left their full-time jobs at Rutland Regional Medical Center to start their hobby brewery. Meigs learned to brew from a radiologist at Rutland Regional Medical Center. "It became something where we started going to breweries," Meigs says. "We mix it up between light beers and dark beers."
The Scotch Ale and stout have quickly become flagships and are always on tap. The Spitting Lyon Scotch Ale is popular for its smooth, fruity finish. "Those are our two front runners and are probably a little unusual for Vermont breweries," Meigs says. Scotch Hill is open Thursday-Sunday. Brewing is done Monday and Tuesday. There is live music with local bands playing on Friday nights. While Meigs focuses on the beer, Rachel focuses on the food. Like the beer, the food is always changing and can include anything from sandwiches and wraps to pretzels and beer cheese to nachos, casseroles and dips.
Rutland Beer Works
Rutland Beer Works, a small, 15-barrel brewery in Rutland, about 25 miles from Okemo, focuses on ales and lagers inspired by country life. It is known for its high-quality ingredients, and it features hop selections and unique malt pairings — many of which have tropical fruit and herbal flavors. The beer is available at the Hop'n Moose Pub on Center Street, which has an inviting atmosphere with televisions and large tables to accommodate big groups. The menu features locally sourced ingredients used in wood-fired pizza, wings, sandwiches and plenty of starters to fill up after a day of skiing.
Produced in partnership with Vermont Ski + Ride Magazine.