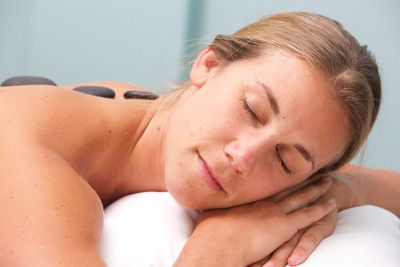 Okemo Signature
This is a relaxing full body massage that utilizes classic Swedish techniques such as friction, effleurage and kneading. Awaken the senses, calm the mind, relax the body.
Price: $115 for 50 minutes; $165 for 80 minutes
Budda Body
This personalized massage experience is designed to address your body's specific needs and preferences while encouraging a relaxing and meditative state.
Price: $125 for 50 minutes; $175 for 80 minutes
Therapeutic Deep Tissue
The Deep Tissue Massage is designed to relieve severe tension in the muscle and the connective tissue or fascia, this massage focuses on muscles located below the surface of the top muscles. If you're an athlete, a weekend warrior, have sustained a physical injury or just need to relieve knots from traveling, this massage is for you.
Price: $125 for 50 minutes; $175 for 80 minutes
Double Diamond Sports Recovery
Sore muscles? Need to stretch it out? This massage has been created for Okemo's sports junkies who need to work out the knots and kinks. Therapists will focus on putting pressure deep into the fascia while improving blood and lymphatic circulation, stimulating the stretch reflex in muscles.
Price: $125 for 50 minutes; $175 for 80 minutes
Mountain Revival Warm Stone
A luxurious treatment using heated lava stones to massage the body increasing circulation and decreasing inflammation and tension. This treatment will thoroughly relax joints and muscles while creating a sense of balance in body and mind. You will leave this session feeling centered and whole.
Price: $135 for 50 minutes; $185 for 80 minutes
Mother-to-be
Perfect for a "mama to be." This massage aims to relax tense muscles, ease sore spots, and improve circulation and mobility while also helping get the kinks out. Relax here, while strengthening and preparing for your little one to come. This treatment can be performed side-lying to aid in overall comfort. Our therapists are trained on the safety guidelines of prenatal massage.
Price: $125 for 50 minutes
*Must be at least 3 months pregnant at time of treatment