Take a scenic ride on the Sunburst Six chairlift and get a different perspective of the Vermont landscape. Hike the trails, have a picnic, take some photos, enjoy the view! You'll be able to hike all the way down or ride the lift back when you are done.
Please Note: Products online must be purchased in advance, at least one day ahead. Please visit our ticket windows at Sunburst Six or Jackson Gore for all same-day purchases. The "window" rate will apply.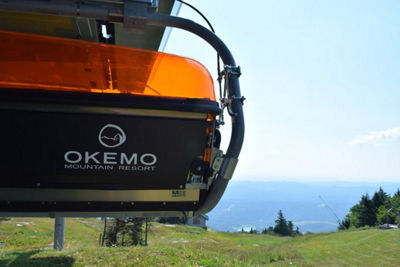 Additional Info
Hours of Operation
June 17 to September 6, 2021: Thursday to Monday, 10am to 5pm.
September 11 to October 11, 2021: Saturday & Sunday only plus Monday October 11 (Indigenous People's Day), 10am to 5pm.
Last chair up will be at 4:45 p.m.
Last chair down will be at 5:00 p.m.
Riding Requirements: All riders must be able to approach the loading area and sit on the chair unassisted and under their own power.
Participants must sign a liability waiver, with a parent/legal guardian signature required for minors.
*Scenic Chairlift Ride tickets may be purchased at the Sunburst Six ticket window.
Pricing
Adult (Age 13+): $21 online ($23 at the window)
Child (5-12): $16 online ($18 at the window)
Child (4 & Under): FREE
*Prices do not include Vermont Sales Tax.  We are not currently accepting cash payments. All transactions must be completed using a credit or debit card.