Timber Ripper Mountain Coaster
The Timber Ripper Mountain Coaster is Central Vermont's favorite four-season family attraction, offering a scenic and exhilarating ride through alpine forests and along the contours of the mountain at Okemo's Jackson Gore.

The roller coaster ride, manufactured by Wiegand, features maintenance-free stainless steel tubular rails for a smooth run down the mountain. Sled-like cars carry two passengers in comfort but can be handled easily by one alone. The riders are in control of the speed, and this gives them a unique hands-on experience, encouraging repeat visits.

Please Note: Products online must be purchased in advance, at least one day ahead. Please visit our ticket windows at Sunburst Six or Jackson Gore for all same-day purchases.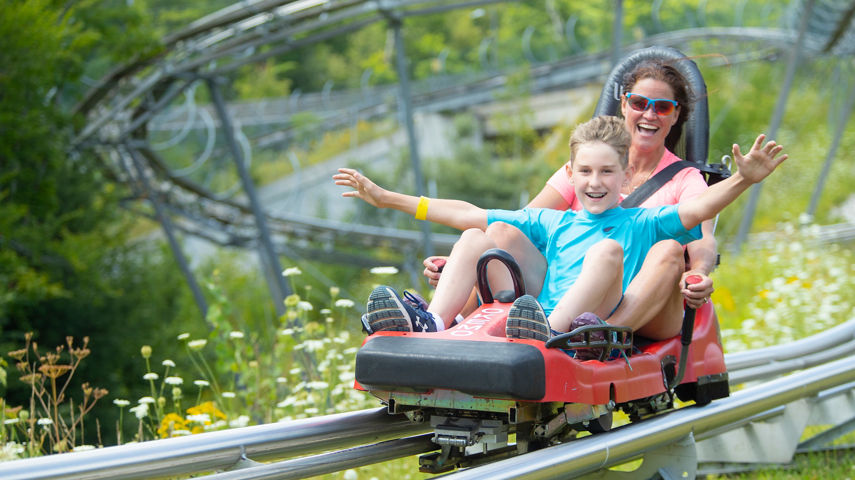 Hours & Details
Hours of Operations
June 16 to September 5, 2022: Thursday to Monday, 10am to 5pm.
September 10 to October 10, 2022: Saturday & Sunday only plus Monday October 10 (Indigenous People's Day), 10am to 5pm.
Guests will load and unload the Timber Ripper in the Jackson Gore base area, near the bottom of the Coleman Brook Express lift. The ride will start with a five-minute, 1,600-foot climb followed by a 375 vertical-foot descent along 3,100 feet of track that follows the contours of the mountain with added waves, camel backs, banking loops and a "twister" section, at speeds of up to 25 mph.
Drivers must be 8 years old and 52" or taller to operate the sled and riders must be 3 years old and 36" or taller to ride.
To drive with a passenger, guests must be 16 years or older.
Maximum combined weight of both passengers cannot exceed 350 lbs.
Participants must sign a liability waiver, with a parent/legal guardian signature required for minors.
Pricing
Each coaster ride must include a driver over 8 years old. Up to two people can ride the coaster together (1 rider and 1 driver). To Drive with a Passenger, guests must be 16 years or older.
1 Ride (Driver) 8+ years old (at least 54" tall): $19 online & $24 at ticket windows
1 Ride (Rider) under 8 years old: $15 online & $17 at ticket windows
3 Rides (Driver) 8+ years old (at least 54" tall): $42 online & $52 at ticket windows - Must be same person
3 Rides (Rider) under 8 years old: $38 online & $48 at ticket window - Must be same person
*Prices do not include Vermont Sales Tax. We are not currently accepting cash payments. All transactions must be completed using a credit or debit card.