Lumberin' Cal Miniature Golf
Okemo Mountain Resort's miniature golf offers 18 holes of fun for every member of the family. The adventures and legends of Ludlow's lumberjacks and sawyers come to life in this entertaining test of skill. Choice is the motivator in this course with golf hole surfaces that offer multiple paths to the cup. Players have distinct choices with mixed outcomes, depending on the selected path.

Putt your way through local history and the folk lore of larger-than-life characters who once roamed the forests of Ludlow with axe in hand. A variety of hole types means some are more difficult than others. And a few incorporate the course designer's unique concept of "intentional luck." This concept enables children and less-skilled players to score as well as the adults... and often better.

So, grab a putter and wind your way through a fun-filled atmosphere of natural beauty and enchanting lumberjack lore.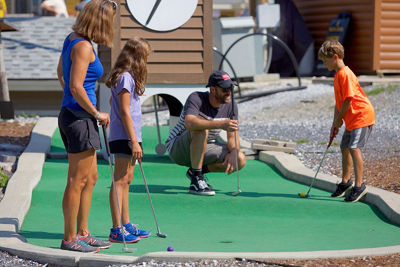 Additional Info
Summer Hours
June 17 to September 6, 2021: Thursday to Monday, 10am to 5pm.
September 11 to October 11, 2021: Saturday & Sunday only plus Monday October 11 (Indigenous People's Day), 10am to 5pm.
Pricing (1 Round):
$13 / ($7 under 7 yrs)
Family Four-Pack: $46