haulback challenge course
The Haulback Challenge Course, features three different courses full of adventure and varying levels of difficulty.

Guests will start their trek with a 350 ft walk along a typical Vermont wooded trail to the beginning of the course. The course is made up of 25 elements that challenge balance and strength. Along this aerial journey from one tree to another you will encounter a variety of challenges such as the Seesaw, Barrel Crawl, Burma Bridge, Big Foot Platform, Indiana Jones Bridge and more! This is a self directed course where the participant will hook up to a SafeRoller and maneuver along a continuous belay system through trees and over streams.

The Haulback Challenge course is a great activity for corporate team building. Work together and encourage your teammates.

Hours of Operation:

June 16 to September 5, 2022: Thursday to Monday, 10am to 5pm.
September 10 to October 10, 2022: Saturday & Sunday only plus Monday October 10 (Indigenous People's Day), 10am to 5pm.
Pricing:
Please Note: Products online must be purchased in advance, at least one day ahead. Please visit our ticket windows at Sunburst Six or Jackson Gore for all same-day purchases. The "window" rate will apply.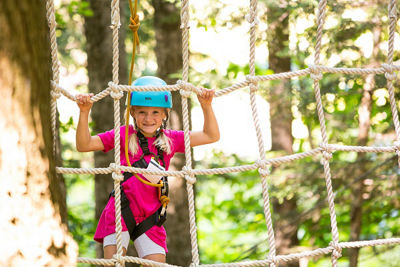 Additional Info
Please Note:
Guests must be between 50 and 250 lbs to safely participate on the challenge course.
Participants must sign a liability waiver, with a parent/legal guardian signature required for minors.
Groups of 20 or more, please contact the Group Sales office a minimum of 72 hours in advance of visit.
*Buying your ticket in advance gets the best price!