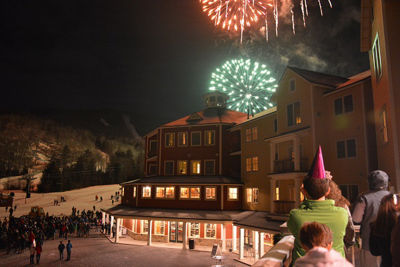 December 31, 2019
Family New Year's Eve
An Okemo Family Tradition! Join us at the Jackson Gore Base Area for an evening of entertainment for all ages. Families can ring in the New Year early with a DJ dance party and fireworks show, AND still get the kids to bed in time for a full day on the slopes on January 1st!

Ring in the New Year with a dance party at the Jackson Gore Roundhouse followed up by a fireworks show!
Schedule:

5:30 - 9:00 pm: Complimentary DJ dance party & photo booth
6:00 - 9:00 pm: Food service at the Roundhouse (a la cart options)
6:00 - 10:00 pm: Cash bar service at the Okemo Taphouse
9:00 pm: Fireworks Show in Jackson Gore Base Area

Outdoor Activities:
12:00 - 8:00 pm - Snow Tubing Park & Timber Ripper Mountain Coaster
12:00 - 9:00 pm - Ice Skating at the Ice House
**Please note - there is a ticket cost for outdoor activities.
There are many more events just like these happening throughout the year! Check out the entire calendar to learn more.