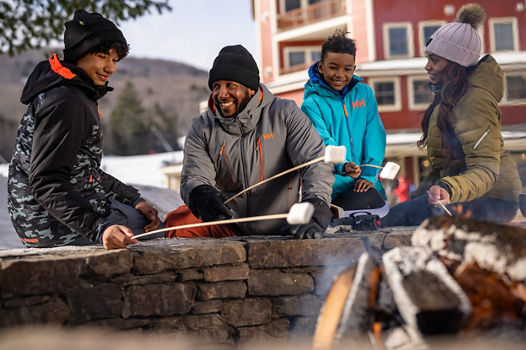 You may have planned a Vermont ski vacation around your work schedule. But there are other reasons to come back to Okemo and the surrounding areas. Some of the events that draw skiers and riders back to Central Vermont's ski mountains each year are classic Vermont favorites —winter carnivals and sugaring weekends. Others are new traditions such as the annual November ski swap or full-moon hikes. This season, plan a trip around one of these events.
Okemo Annual Ski and Snowboard Swap - November 19-21
The annual ski and snowboard swap to benefit Okemo Mountain School is the best place in the area to get new and used gear from top brands at amazing prices. You will find everything you need to hit the slopes— from skis, snowboards, boots, bindings, helmets, and goggles to clothing and outerwear. The equipment selection is large enough to fill two floors of the Jackson Gore Roundhouse and there's something for all ages. All proceeds from the three-day sale benefit the Okemo Mountain School in Ludlow.
Christmas in Weston- December 3
This annual town-wide celebration in early December is fun for the whole family. Located in picturesque Weston, an 11-mile drive from Okemo, Christmas in Weston has cookie decorating, a gingerbread contest, caroling, and horse-drawn wagon rides. A tree is lit at the town green just as it starts to get dark. Families can also listen to a reading of "A Christmas Carol" at Walker Farm and visit Santa and Mrs. Claus at the Vermont Country Store, one of New England's most well-known general stores. There is also an annual quilt display at the historic Weston Playhouse.
Wassail Weekend-December 9-11
Woodstock becomes the ultimate Christmas town in December, where historic homes are decked in twinkling lights. Wassail Weekend is a three-day event in early December with the highlight being a Currier and Ives-themed horse parade, where horses and riders dress in Victorian costumes and circle the Woodstock Green. There are events all weekend, like carriage rides around the village to the tune of jingling sleigh bells, holiday caroling, and cookies with Santa. Listen to Christmas stories or get crafty with drop-in ornament making sessions. Free Christmas movies play at the Woodstock Town Hall Theatre all weekend. You can also catch a performance by the Whiffenpoofs, Yale's acclaimed all-male a capella group. "It's a magical weekend," Woodstock Chamber of Commerce Executive Director Beth Finlayson said. "I love it. For me, it doesn't get old. I love the feeling of everyone working together." The 45-year-old tradition attracts thousands of people and only gets bigger each year. The event is about 25 miles away from Okemo.
Okemo New Year's Eve – December 31
The New Year's Eve celebrations typically begin early at Okemo so kids and adults can get to bed in time to get up and ski on New Year's day. A DJ-hosted dance party often starts just after dark at the Jackson Gore base area where you'll find party games, balloons and noisemakers to ring in the new year. This is the perfect event for families. Sit around outdoor fire pits and enjoy pizza and s'mores or try party hat decorating. You can test your smarts in a trivia tournament, play bingo games and more. The celebrations end by 9 p.m. with fireworks. Tickets can be purchased at okemo.com.
Full Moon Hikes - January, February
Snowshoe or ski up Mount Ascutney in West Windsor under the moonlight and be treated to a bonfire with soft drinks and snacks on the way up. "Generally, it's on the lower trails, and it's not so much for the view as it is for the exercise and social aspect," said Jim Lyall of Ascutney Outdoors, one of the organizers of the event. The hike is gentle enough for children and beginners. Snowshoe rentals are available at Ascutney Outdoors, about 20 miles from Okemo.
Chester Winter Carnival - February 15
Chester's annual winter carnival takes place over President's Day weekend and has events scattered throughout town. Activities include sledding, ice skating, dog-sled rides and horse-drawn sleigh rides. The Chester Snowmobile Club also hosts snowmobile demos. Don't miss the ice sculpture demonstrations, a large community bonfire to warm up when it gets chilly, a guided snowshoe hike and a broomball tournament. There is something to do at just about every public area in town. Plus, there's plenty of food, coffee, and hot chocolate served at each venue. The carnival is about 14 miles from Okemo.
Maple Sugar Open House - March
As the winter days become longer and temperatures start to warm, participating maple sugar makers open their doors in March and invite you into their sugarhouses to experience the sights, smells and sweet taste of pure maple syrup as the sap gets boiled off each spring to form syrup and sugar. Visit Papa John's Sugar Shack, a family-owned sugaring business in Mount Holly, about 5 miles from Okemo, in the spring to get your sugar fix. Mark Turco, his wife Amy and their sons, Mark Jr. and Austin, run the sugar operation with an oil-fired evaporator. The family teaches anyone who is curious how to tap a tree. While here, sample the maple cotton candy, maple waffles or the maple coffee.
A little farther, Sugarbush Farm, a working maple and cheese farm in Woodstock, about 25 miles from Okemo, does everything the old-fashioned way. The sap is collected with draft horses and a sleigh before it's boiled using heat from a wood fire. Participants can taste samples of maple products and get an explanation of how Sugarbush Farm has stuck to traditional sugar-making techniques. You can even go for a walk in the woods to see how trees are tapped with plastic tubing.
Okemo Mountain Resort also has hosted Sugar Days, bringing sugarmakers (as they are known) to the slopes for demonstrations.
And if you miss the spring season, the Vermont Maple Sugar Makers Association also hosts two fall open house weekend.
Produced in partnership with Vermont Ski + Ride Magazine.