Spring House Pool & Fitness Center
The Spring House is the resort's source for relaxation and rejuvenation! The Okemo's pool and fitness center, located at the Jackson Gore base area, features a fully equipped fitness room, a recreational swimming pool, a children's splash pool with a whimsical frog slide and a five-person hot tub. Fitness classes offered in the Spring House Studio include Zumba, Yoga and Cardio Sculpt. Aqua Aerobics and Aqua Sculpt take place in the pool on select days.
Court time is available at the Spring House racquetball court from 8:30 a.m. - 7:30 p.m. Whether playing racquetball or wallyball (volleyball with walls!) the whole family is sure to have fun and get some good exercise at the same time. Just stop by or call The Spring House front desk to reserve your time.
For more information, please call 802.228.1419
Previous tab
Previous tab
Class Schedule
We are currently offering a limited selection of Yoga and Zumba classes. Offerings and schedules may vary week to week. Please call for availability and information.
Rates are $12 per fitness class or purchase a punch card ahead of time for $100 and get 10 classes.
Please call 802.228.1419 for up-to-the-minute class information and to sign up.
View Schedule

, opens in a new window
Winter
Hours of Operation
The Springhouse Fitness Center is open daily from 7:30 a.m. to 7:30 p.m. For additional information, including memberships, please call 802.228.1419. Day access passes and ten-visit punch cards are available for purchase.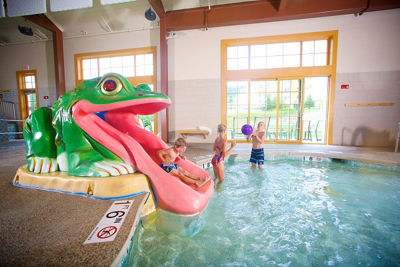 Pools, Hot Tubs & Splashes
The Spring House pool complex features a heated recreational pool with designated lap swim times daily for those looking for a workout. There is a children's splash pool and the raised platform hot tub rounds out the pool complex.
The Jackson Gore Inn Pool Complex is available to Jackson Gore Inn owners and guests as well as by membership. This pool complex is offered as an alternative to the Spring House throughout the year. Also available at the Jackson Gore Inn pool complex are two outdoor and one indoor ten-person hot tubs, a sauna and a steam room.
Fitness
Fitness
The Spring House Fitness Room is loaded with state-of-the-art equipment to help you pursue your fitness goals whether you are vacationing with us or you call the Okemo Valley your home.
The Studio
You'll find The Studio on the lower level of the Spring House. The Studio hosts group fitness and wellness classes and provides a quiet area to stretch and meditate. Class schedules are subject to change, so please call ahead.
Rates are $12 per fitness class or purchase a punch card ahead of time for $100 and get 10 classes.
Call 802.228.1419 for class information. Schedule subject to change without notice.